Penn State Fayette trains Machine Fabricating and Weight Equipment Shop employees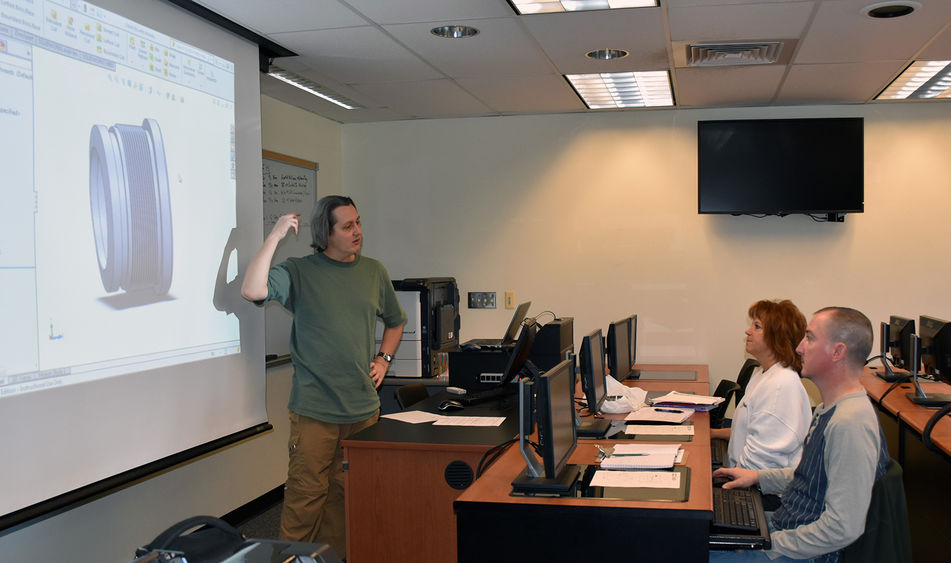 LEMONT FURNACE, Pa. — Employees of Machine Fabricating and Weight Equipment Shop of Uniontown spent several Saturdays this fall at Penn State Fayette, The Eberly Campus, learning about specialized software used for rendering 3D CAD images of parts the company manufactures.
There was an urgent need for the company's workers to learn Solidworks, according to Office Manager Darlene Means, because the only employee able to use that software left several months ago. She said that because Solidworks had been so helpful to her co-workers, as well as to customers, she started reaching out to companies, including the one from which they purchased Solidworks, for training.
Means found training was available — but it was in Pittsburgh and would take an entire week. "We're a small company," she said. "We don't have the ability to send our employees to that type of workshop. So, I reached out to Penn State, and spoke with Joe Segilia, the director of continuing education."
To her great surprise, Segilia informed Means that she could get Solidworks training right at the Fayette campus with Penn State Fayette Engineering Instructor Nate Bohna. "Joe told me about Nate, and that he does teach this class, so we decided to come together and get the basic knowledge of this program, to see how it operates and see where we can go," said Means.
She added, "This is just the beginning of what we want to do with this program. We want to take it to the next level after we learn all the basics, and get familiar with what Nate's teaching us — which he's been awesome at so far."
Bohna is excited to be teaching employees of a local company, and looks forward to working with others. "Opportunities like this for the University to help local industries by partnering with them don't happen enough," he said.
Student Jerry Manchas, a computer numerically controlled operator at the Machine Fabricating and Weight Equipment Shop, was pleased with his newfound understanding of Solidworks, and also looking forward to creating a professional-looking image of a part for one of his customers. "I got the ability to use the software at Penn State Fayette," he said. "Before this class, I didn't know how to do anything with it."
Segilia said that, despite the campus' primary mission of providing a college education, local business owners should keep Penn State Fayette in mind for their training needs. "The continuing education program that we held here for Machine Fabricating was one of the great opportunities that our campus provides the business community in our five-county southwestern Pennsylvania service area," he said. "We encourage local businesses to call us and talk to us about their training needs, and we will be happy to develop customized training programs that can be delivered here on campus — or we are certainly willing to bring our training to their worksite."