Twice yearly event at Penn State Fayette highlights students' curiosity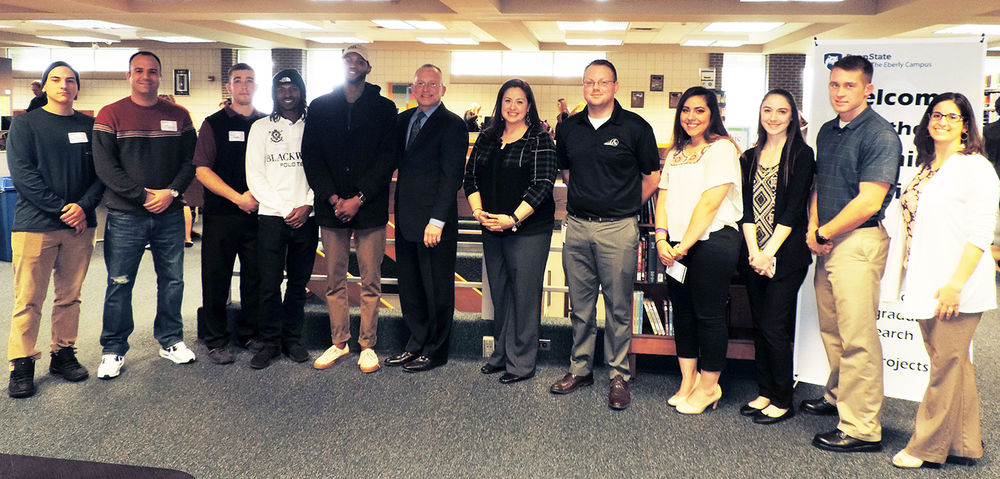 LEMONT FURNACE, Pa. — Staff and faculty members made their way into the Library at Penn State Fayette, The Eberly Campus on Dec. 8 for the Undergraduate Learning Fair to see what a hundred student-researchers had discovered this semester. Each spring and fall, Learning Fair competitions provide opportunities to display the academic curiosity and presentation skills of students at the Fayette campus through posters they have created.
This semester, according to Learning Fair coordinator Mary Inks-Budinsky, there were 44 total entrants competing in two categories: judged undergraduate research project and class project-audience choice.
Evaluating the entries was a panel of three judges: Justin Grimm of Fayette County Career and Technical Institute, Heather Fani of Fay-Penn Economic Development Council, and Ron Sheba, a campus advisory board member and retired school superintendent.
The judges selected the following winners:
Judged Undergraduate Research Project
First Place: Savannah Nassar
"Mental Illness Stigmatization: Celebrities vs. Non-Celebrities"
PSYCH 490, Nicole Iannone
Second Place: Janai Showman
"Can Green Tea Affect Serotonin Levels?"
AMST 297, Gib Prettyman
Third Place: Tyler Garlick
"Narcoterrorism and Low-level Drug Enforcement"
CRIMJ 439, Brad Whitsel
One additional award was decided by the attendees. The Class Project Category (Audience Choice) went to Tony Bristol, Brandon Cunningham, Dalton Coursin, Mike Fetsco, Ty Henry, and Alex Provance for their "Banner and Slide-in Poster," which originated in MKTG 422, taught by Peter Eberle.
Chancellor and Chief Academic Officer Charles Patrick, who announced the award winners, commented on the Learning Fair. "I got a chance to see everyone's display, and it's very impressive," he said. "We're very proud of all of you young men and women. We are just pleased that you have come through and shown yourselves in this way."