'Celebrate the Season' is festive opportunity to highlight employee excellence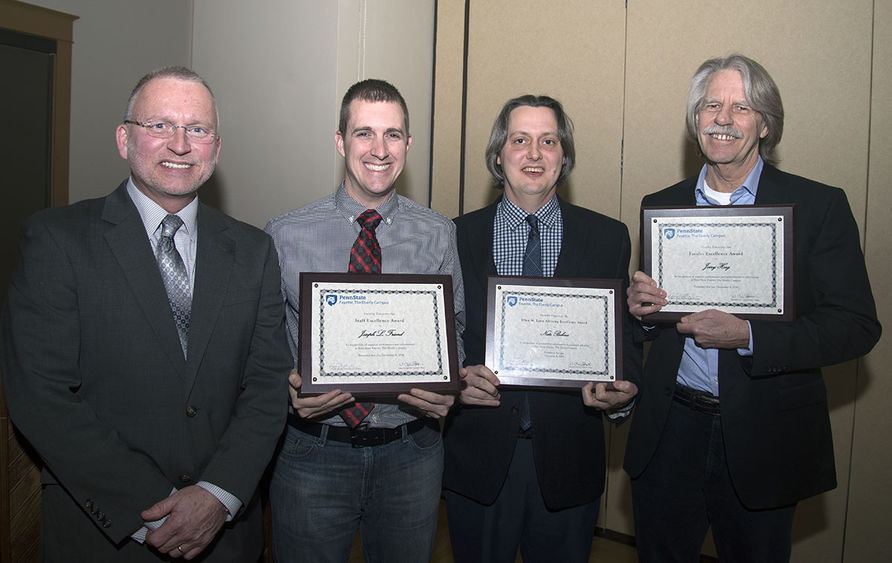 LEMONT FURNACE, Pa. — The Advisory Board of Penn State Fayette, The Eberly Campus recognized outstanding achievement and service among the faculty and staff at a special awards banquet held Dec. 9 at the Uniontown Country Club.
The Excellence Awards are a highlight of every "Celebrate the Season" event, as they provide an opportunity to recognize outstanding achievement by campus employees. Chancellor and Chief Academic Officer Charles Patrick presented plaques to Joseph Friend Jr. for the Staff Excellence Award and Spanish professor Jerrold Hoeg, who won the Faculty Excellence Award.
The Rose Ann Williams Staff Mentoring Excellence Award went to Michelle Henrish, who supports the Nursing Department, while physics instructor Nathaniel Bohna took home the Ellen Laun Advising Excellence Award.
"Penn State Fayette is very proud of our Excellence Award recipients; these four individuals truly represent excellence in their work and especially in interactions with students and colleagues," said Chancellor Patrick.
The following employees were recognized for their years of service to the campus:
Five years: Johnny Marcolini and Bob Lowery
10 years: George Martin and Damien Zsiros
15 years: Sharon Rendine, Elaine Barry, and Bill Hager
20 years: Gib Prettyman and Jan Jordan
25 years: Rita Gumbert
30 years: Bob Miller
The campus also honored its two retirees, Dee Lindsay and Elaine DeFrank.