Volunteers from Penn State Fayette, Beaver, and Behrend honor Dr. Martin Luther King Jr.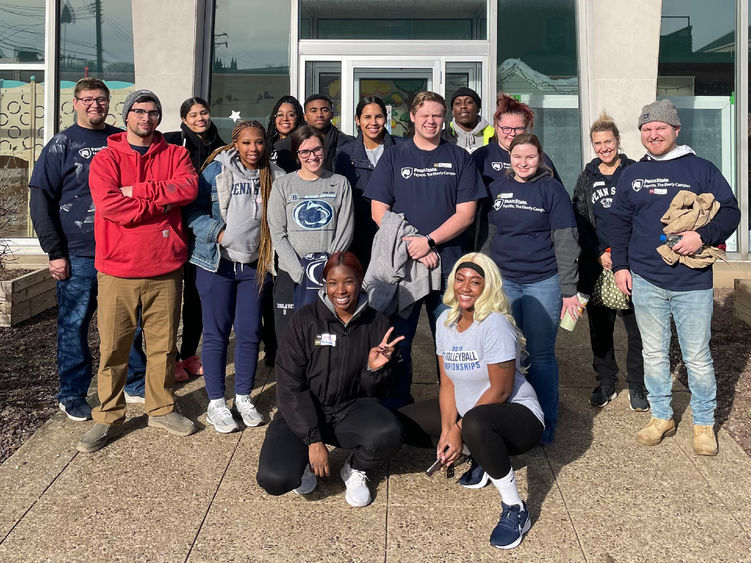 LEMONT FURNACE, Pa. — As Martin Luther King Jr. famously said, "Life's most persistent and urgent question is, 'What are you doing for others?"' Twenty-one volunteers from Penn State Fayette, The Eberly Campus, joined Penn State Beaver and Penn State Behrend to complete community projects throughout Beaver County, Pennsylvania, on Martin Luther King Jr. Day, Jan. 16.
Motivational Speaker, "Backpack Jeff"
They began their day with Jeffrey W. Young, motivational speaker commonly known as "Backpack Jeff."
"Each and every one of you are destined for greatness," said Jeffrey, his voice full of conviction as he rallied the audience. "Make sure you're the best person that you desire to be." 
After his inspiring speech, students were divided into groups and assigned to different community projects throughout the area. These projects included cleaning a children's museum, painting a church, and organizing a community center amongst other activities.
Making a difference
Volunteers worked hard and put in their full effort to make a positive impact. Despite the challenges they faced, they remained determined to make a difference.
"It was great to see so many students willing to give up their time and do something like this," said Maria Catalina, third-year business and humanities major. "Our group helped a church, and the pastor told us that their community is one that wears their problems on their sleeves. Others might be good at brushing them under the rug and putting on a smile, but not them, said the pastor. There are so many people that need help and I think we need to realize that more."
As students from the surrounding western campuses came together as one, they learned what it means to be Penn Staters.
"We weren't just Penn State Fayette. It was really cool that we came together as one University to show how much we care about these issues."

—Kenzie Mowry , second-year agricultural extension and education major, Penn State Fayette
Reflection and learning
However, the day was not just about working. It was also a time for reflection as volunteers learned about Martin Luther King Jr.'s message of service and the importance of creating a more equitable society.
Penn State Fayette's Director of Student Affairs Chad Long, left an impression on the students after reciting a quote from King. "Everybody can be great, because everybody can serve," he said. "If you look at all the places that we helped — from the Sisters of St. Joseph to Neighborhood North — all these organizations are serving the community. We're focusing on his legacy and making the lives of other people a little better."