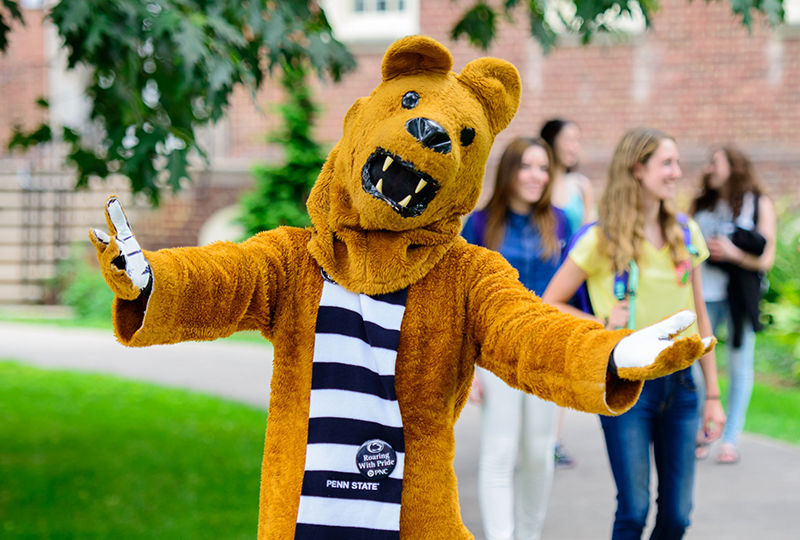 As part of our regular "We Are!" feature, we recognize 11 Penn Staters who have gone above and beyond what's asked of them in their work at the University.  
This week, on behalf of the entire Penn State community, we'd like to say thank you to: 
Kierra Drapcho, director of administration in the School of International Affairs, whose nominator wrote: "Kierra works very hard to make our program run seamlessly. Without Kierra, this ship would sink. She is an extremely valuable member of the School of International Affairs. Thanks to Kierra for all she does!" 
Jacob Frank, an undergraduate student studying education and public policy, whose nominator wrote: "As a student worker for the Gender Equity Center, Jacob works tirelessly to promote healthy relationships. Jacob is also the current president of Greeks CARE, a peer education group that works to educate and end sexual violence. Jacob is a leader in these efforts at Penn State." 
Jordan Futrick, multimedia specialist at the Institute for Computational and Data Sciences, whose nominator wrote: "Jordan is an amazing graphic designer and all-around great coworker!" 
Alex Harrington, access services and instruction librarian at the College of Medicine, whose nominator wrote: "Heartfelt appreciation to Alex Harrington in the College of Medicine Hershey Library for years of dedication to diversity, equity, inclusion and accessibility efforts in the University Libraries. Alex has been a phenomenal, enthusiastic, supportive and highly organized co-chair of the Libraries Diversity Community of Advocacy." 
Susan Hollywood, administrative support coordinator for the Department of Psychology in the College of the Liberal Arts, whose nominator wrote: "Though Susan is relatively new to Penn State and the department herself, she has gone above and beyond to help other new department hires feel welcome and get settled." 
Tom Jackson, the Robert E. Kirby Chair Professor in the Department of Materials Science and Engineering in the College of Earth and Mineral Sciences, whose nominator wrote: "Dr. Jackson's hard work and pragmatic outlook is just amazing. He loves his students so much and is always willing to help them. He never fails to inspire me with his wisdom and optimism." 
Peter Newman, department head and the Suzanne and Allen Martin Professor of Recreation, Park and Tourism Management (RPTM) in the College of Health and Human Development, whose nominator wrote: "Peter is the definition of a true leader by fostering strong relationships within the department and across the University, creating an innovative and creative atmosphere to move RPTM into the next era in higher education." 
Karen Prettyman, campus registrar for Penn State Fayette, The Eberly Campus, whose nominator wrote: "Karen goes above and beyond her duties as registrar. She is always friendly and welcoming to all and helps in any way she can. She developed a new format for our campus new student orientation (NSO) that has proven to be very positive and informative. She is a positive asset to our campus and to Penn State!" 
Ashley Shank, lecturer of music education and student teacher coordinator in the College of Arts and Architecture, whose nominator wrote: "Dr. Shank puts in countless hours to respond to emails, oversee scheduling of auditions, review admission decisions and create communication processes which interface with the College of Arts and Architecture and the Undergraduate Admissions Office." 
Emily June Walter, education program coordinator in the College of the Liberal Arts, whose nominator wrote: "Emily is a valuable team member of Penn State's Intensive English Communication Program (IECP).  She is always ready to help, to support, to show up, to go the extra mile and to anticipate the needs of staff and students. I think she embodies the We Are spirit because of her centeredness on others." 
Rebecca Yockey, financial manager in the College of Medicine, whose nominator wrote: "WE ARE lucky to have Becky Yockey as financial manager in graduate education at the College of Medicine. She ensures trainees earning the dual master's and doctoral degrees from our institution have what they need. Trainees are lucky to have Becky taking care of the financials for their program." 
Thank you Kierra, Jacob, Jordan, Alex, Susan, Tom, Peter, Karen, Ashley, Emily and Rebecca — and to everyone who helps make Penn State such an incredible community!    
Do you know someone who deserves a shout out? If you do, consider nominating that person by filling out a short online form.