Students share their college and study abroad experiences at Salisbury Elk-Lick and Uniontown High School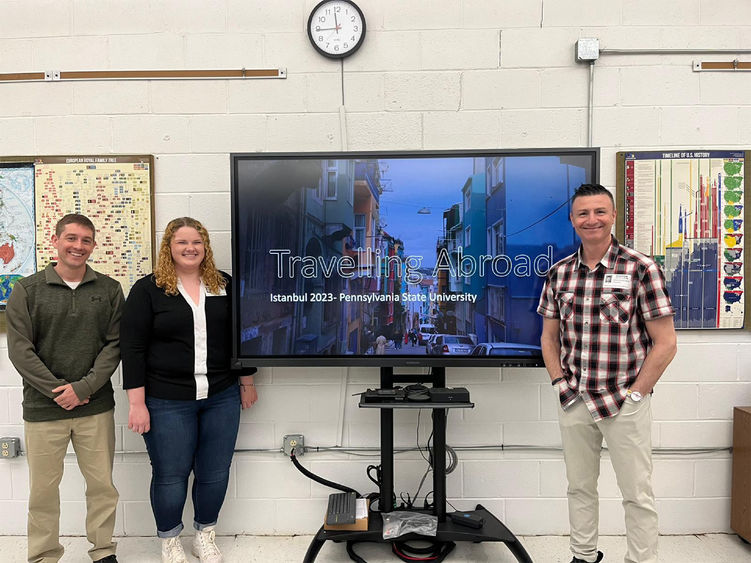 LEMONT FURNACE, Pa. — Students from Penn State Fayette, The Eberly Campus, recently visited local high schools, including Salisbury Elk-Lick School District and Uniontown High School, to share their experiences of studying abroad and the benefits of a college education at Penn State Fayette.
Tessa Lynn, who visited Salisbury Elk-Lick, said it felt "really empowering" to present information about her study abroad experience in Istanbul, Turkey, and promote the opportunities available at Penn State Fayette. "Some of the kids we spoke to might not have considered college before, but by the end, they had shown real interest in it!"
Anna George, another Fayette student studying psychology, visited her alma mater, Uniontown High School, to share her experiences in the psychology program and offer advice to students considering college.
"Having this opportunity to go back to where I came from and actually speak to the students directly made a difference. I believe that this interaction between current college students and high schoolers is valuable, as they don't really know what to expect. So, our visit to speak with them and answer any questions they have or give them advice for college was helpful," said George.
Psychology student, Jamie Thorpe, also participated in the outreach initiative. Thorpe shared her perspective on the advantages of attending a small campus like Penn State Fayette.
"Here, your classes are small, and you can have more one-on-one time with your professor," she said. "This allows for a better understanding of the subject and building a personal relationship with the professor."
During the presentations, the students highlighted the various ways in which studying abroad can broaden one's horizons and open up new opportunities for personal and professional growth. By sharing their stories and encouraging others to follow in their footsteps, they felt that they had inspired other students to pursue their dreams and explore the world around them.
Julie Seliga, another Penn Stater who visited Uniontown High School, expressed her joy at the opportunity to give back to the high school community.
"As a student, I don't remember having someone come in and talk about what you can do, learn, and have fun with at college," she said. "I'm glad to have had the opportunity to do that for others.
Reflecting on the impact of the presentations, Seliga noted that the students seemed surprised to learn that Penn State Fayette offered study abroad programs. She added, "A lot of them didn't know you could travel while in college. They had plenty of questions after we left that they asked their teachers. The teachers later emailed us, not with their specific questions, but to let us know that the students were really interested in learning more."
"Students in rural areas like Salisbury Elk-Lick School District have less exposure to these sorts of things," said Lynn. "I encouraged them to learn more about college and follow through with their plans and find opportunities like I did."
Through their presentations, the Penn State Fayette students brought to life the people, places, and experiences they encountered during their study abroad trips, allowing their audiences to imagine themselves walking the streets of Istanbul or other international destinations.
Looking back, Seliga was glad to return to her high school, saying, "It allowed me to reflect on the study abroad trip and take it all in again." She added that the experience made her think on her feet, sharing some Turkish Lira and anecdotes outside of the presentation.
"I've wanted to study psychology since the tenth grade. Enrolling at Penn State and studying Intro to Psychology with Dr. Aris Karagiorgakis cemented that passion within myself."

—Tessa Lynn , Penn State Fayette, Psychology Student
Overall, the presentations were a success, and the group hopes that they inspired more high school students to consider college and study abroad opportunities.
For more information about the Psychology (B.S. or B.A.) program at Penn State Fayette, visit the program's website or call 724-430-4130 to schedule a campus visit.