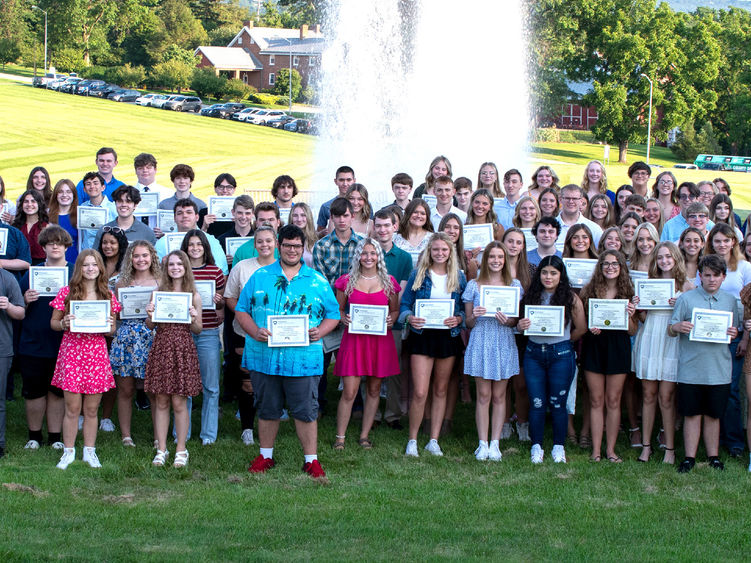 LEMONT FURNACE, Pa. — Penn State Fayette, The Eberly Campus and United Bank of Uniontown celebrated the academic success of local high school students at their annual 4.0 Club ceremony.
The Penn State Fayette and United Bank 4.0 Club was established in 2011 to recognize students from regional high schools who have completed their freshmen, sophomore, junior or senior years with a cumulative grade-point average of 4.0 or higher. Penn State Fayette and United Bank of Uniontown representatives extended heartfelt congratulations to the 2023 cohort at the event.
Speakers included Charles Patrick, chancellor and chief academic officer; Debra Saylor, associate director of enrollment management; Bill Gardner, assistant teaching professor of business administration; and Brooklyn Williams, vice president of the Lion Ambassadors at Penn State Fayette. Each one applauded the students' commitment to academic excellence and success.
Students represented 15 regional high schools at this year's event.
Belle Vernon High School
Bentworth High School
Bethlehem Center High School
Brownsville Area High School
Carmichaels Area High School
Connellsville Area High School
Frazier High School
Geibel Catholic Junior-Senior High School
Jefferson-Morgan Junior-Senior High School
Laurel Highlands High School
Monessen High School
Southmoreland High School
Turkeyfoot Valley High School
Uniontown Area High School
Waynesburg Central High School
Penn State Fayette offers nine baccalaureate degrees and five associate degree programs and is committed to providing a quality education to the local community and beyond. For more information about the 4.0 Club or Penn State Fayette, call 724-430-4130.