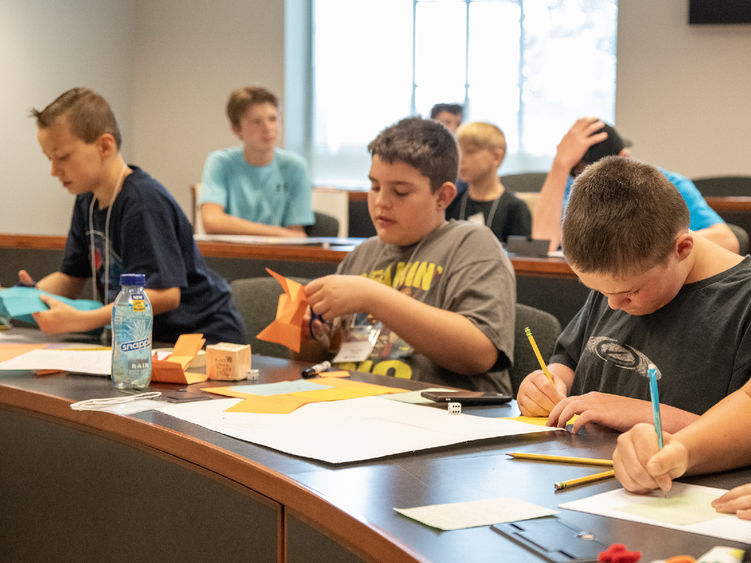 LEMONT FURNACE, Pa. — Penn State Fayette, The Eberly Campus, has concluded a series of summer youth programs, offering local youths the opportunity to engage in unique educational experiences.
Courses included: "A Summer in Space," "Science and Robots," "Storybook Camp," "Jump into the Jungle," "Wild Weather," "We Are… Entrepreneurs," "Energy and Magnetism," and more. Thoughtfully designed and presented by knowledgeable instructors, these programs combined educational exploration with hands-on activities to enhance critical skills within local youths.
"Local school districts provide a diverse group of students to our summer camps and help introduce Penn State Fayette to future Nittany Lions," said Barbara Koffler, director of continuing education.
Mindy Harris, curriculum coordinator of Uniontown Area School District, praised the organization and value of the programs. "These summer camps were very well-organized," she said. "Many students and parents have told us they really enjoyed them."
Harris mentioned that Uniontown Area School District had received the Elementary and Secondary School Emergency Relief (ESSERS) grant, aimed at providing summer learning opportunities to mitigate the learning loss caused by the COVID-19 pandemic.
"Our administration was excited to provide this opportunity to our students. More than the content they learned in the summer camps, we are hopeful that spending a week on a beautiful college campus right in our backyard may light a spark in our students' future endeavors," Harris said. "Many of our students do not perceive college as obtainable. Having them see that a college campus is within their reach was part of our goal in participating in the Penn State Fayette summer camps."
This summer's collaboration between Penn State Fayette and local school districts serves as a blueprint for how educational institutions can partner to make a meaningful impact in their communities, according to the organizers.
"While our summer camps largely focus on hands-on learning and fun, they also incorporate educational components and provide an environment conducive to intellectual growth," said Lynne Roy, summer youth camp coordinator. "Students engage in STEM related activities, explore new interests, work together, and build confidence."
Penn State Fayette's dedication to youth development contributes to the educational growth in the area, said organizers. Plans are underway for next year's programs, and local school districts, parents and guardians, and educators are invited to learn more.
For more information, please contact Barbara Koffler, Penn State Fayette's director of continuing education at [email protected] or call 724-430-4212.