Worldwide protest to end violence against women returned to Penn State Fayette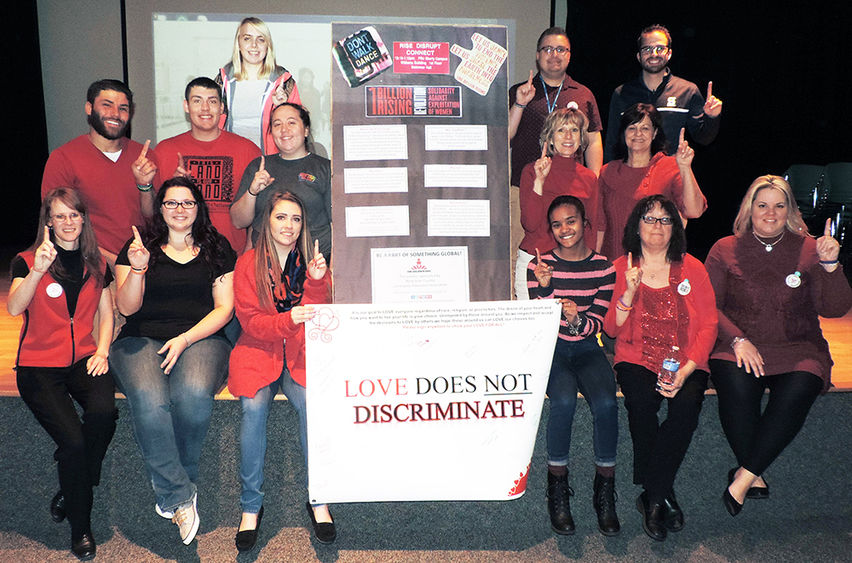 LEMONT FURNACE, Pa. — In a Valentine's Day demonstration of love, students, staff, faculty and community members gathered in Swimmer Hall at Penn State Fayette, The Eberly Campus, to take part in "One Billion Rising," a global action to end violence against women. Though participants across the world can employ various forms of protest for this event, dancing has been the mode of choice at the Fayette campus, which has hosted it for the past three years in conjunction with Domestic Violence Services of Southwestern PA.
One Billion Rising is the brainchild of playwright, activist, and author Eve Ensler, who launched the campaign on Valentine's Day of 2012 as a call to arms, based on the statistic that one in three women on the planet will be beaten or raped during her lifetime. This totals more than a billion women and girls. To combat these staggering statistics, the One Billion Rising campaign holds peaceful protests around the globe, bringing men, women, and youth together. The goal is that, through this event, a new kind of consciousness will rise — one where violence will be resisted until it is unthinkable.
This year's event kicked off with some distance-learning, as the group watched a video and practiced steps to a four-minute dance routine created especially for One Billion Rising. Once they were up to speed, the event's theme song, "Break the Chain," began to play, and the dancing commenced. There were lots of smiles and laughter as the dancers showed off their newfound moves.
Kicking up her heels along with the others was Penn State Fayette junior Rachel Mitchell, a resident of Uniontown. This was the human development and family studies major's second time at One Billion Rising, which she attends both for educational and personal reasons.
Although Mitchell could get a job working with victims of violence after earning her degree, she has already seen it firsthand. "There was domestic violence in my family, so I come to support them," she said, raising her arm with the others and extending an index finger to symbolize the one billion women and girls who are victims of violence across the world.
Another dancer, Amanda Wolf of the Crime Victims Center, felt it was important to be there. She said, "Our agency is primarily a sexual assault agency, and sometimes we deal with domestic violence and make referrals and resources available to men and women. I think it's an excellent event to get the awareness out in Fayette County. I'm proud to be here and proud that Penn State Fayette is hosting something like this."