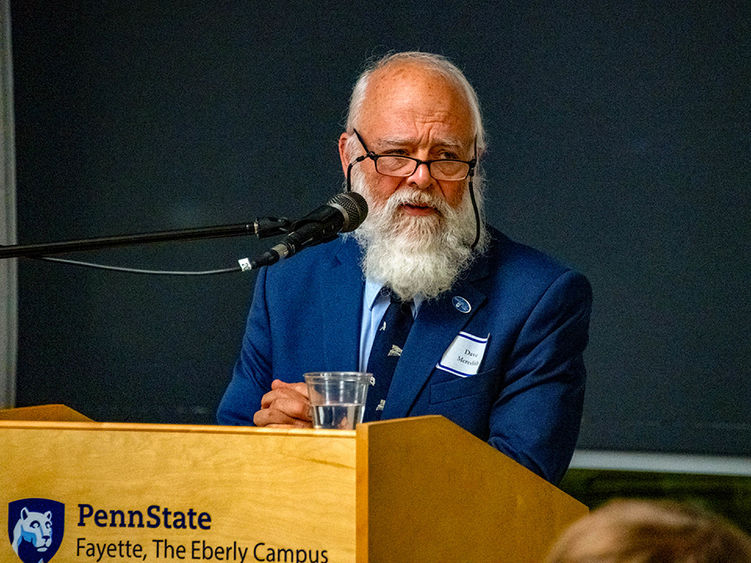 LEMONT FURNACE, Pa. — Penn State Fayette, The Eberly Campus, hosted the 14th annual Scholarship Donor Dinner to honor student recipients of philanthropy-funded scholarships and awards on Nov. 15.
David B. Meredith, retired associate professor of engineering and founder of the David B. Meredith Legacy Scholarship, spoke on behalf of the donors, relating his own experience as a student.
"My freshman year, two weeks before exams, my mother had a heart attack," Meredith said. "After the funeral, my dad sat down with me on the couch and said, 'I don't know how, but you're going to stay in school, and we'll figure this out.'"
Meredith shared a touching narrative about receiving a scholarship from the legacy of Roy Stevenson King, a deceased Ohio State graduate and professor. He had never met Roy but was moved by the selfless act, understanding it was established by Roy's children in 1959 to support students. Emphasizing the spirit of paying it forward, Meredith highlighted how this experience shaped his own decision to establish a scholarship, continuing the cycle of generosity and support for future generations.
"Years from now it won't matter what sort of house I lived in or the car I drove, but the world may be different because I was important in the life of a student," Meredith said. "It isn't all about the money. It's about change, improvement and helping people."
Lauren Nedrow, a second-year student triple-majoring in business marketing and management, project and supply chain management, and corporate communications, spoke on behalf of the scholarship recipients.
"I am immensely grateful for these opportunities, which lifted much of the financial burden associated with college education, particularly as a first-generation college student in my family," Nedrow said. "Thanks to these opportunities, my dreams of attending college became a reality, and I can only thank each and every one of you for this opportunity with your gracious donation that has impacted many students like me."
Nedrow chairs Penn State Fayette's THON organization. She also is a Student Government Association member and actively participates in campus events.
The more than 30 students in attendance were recognized for outstanding academics, service and more with over 40 endowed scholarships and awards.
"Penn State Fayette has thrived for over 55 years thanks to generous community and alumni support, including a recent campaign that raised $4.2 million," said Lori Omatick, director of development for Penn State Fayette. "This support is vital, especially since most of our students need financial aid and many are the first in their families to attend college. We are deeply grateful to our donors for keeping our opportunities in reach."
Gifts to scholarships advance the University's historic land-grant mission to serve and lead. Through philanthropy, alumni and friends are helping students to join the Penn State family and prepare for lifelong success; driving research, outreach and economic development that grow our shared strength and readiness for the future; and increasing the University's impact for families, patients and communities across the commonwealth and around the world. Learn more by visiting raise.psu.edu.