Penn State Fayette students dance — and raise almost $94,000 for pediatric cancer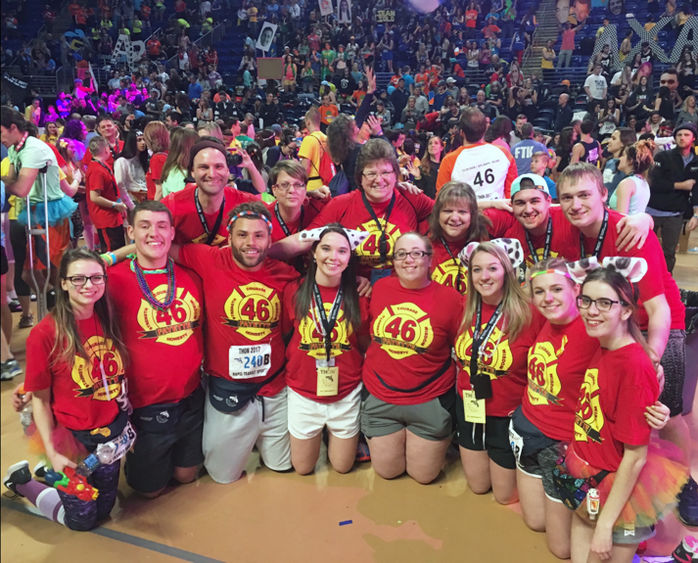 LEMONT FURNACE, Pa. — The generosity of southwestern Pennsylvania has once again surpassed every other area in the Keystone State, as the students of Penn State Fayette, The Eberly Campus have repeated their fundraising prowess by generating $93,943 in donations for the annual Penn State IFC/Panhellenic Dance Marathon (THON), held Feb. 17 to 19 in the Bryce Jordan Center at University Park. Overall, the total raised this year was $10,045,478.
THON, as it is affectionately known, is the largest student-run philanthropy in the world, and involves a yearlong effort to raise funds and awareness in the fight against childhood cancer. The efforts culminate in a two-day, no-sitting, no-sleeping 46-hour dance marathon each February. Since 1977, THON has raised more than $146 million for Four Diamonds at Penn State Hershey Children's Hospital. All donations are used to cover the treatment costs for pediatric cancer patients, as well as supported cancer research.
This weekend's top ranking is the fourth time in recent months that teams at Penn State Fayette have bested all others across the state. The campus' cross-country, volleyball, and wrestling teams each have won Penn State University Athletic Conference championship trophies this academic year.
Although it is one of Penn State's smaller campuses, Fayette's THON team continues to dominate the Commonwealth with passion, enthusiasm and determination. This year, the Fayette campus team raised nearly $25,000 more than its closest competitor, Penn State Altoona ($68,919.10).
Chad Long, manager of student affairs at Penn State Fayette and a former THON dancer during his undergraduate years, said the campus community is very proud of the fundraising efforts of its team. "Their hard work, dedication, enthusiasm and passion is boundless," he said.
Long was a founding member of the Fayette team in 1998 and is still involved with THON in his current position, so he knows firsthand what can be accomplished when people band together for a cause, and invoked anthropologist Margaret Mead, who famously observed: "Never doubt that a small group of thoughtful, committed citizens can change the world. Indeed it's the only thing that ever has."
"Our team reflects her words," said Long, "And they should be an example for all people in the world to make a difference."
The campus will celebrate the accomplishments of the THON team during the annual Recognition Dinner, scheduled for Feb. 23.