Student leaders from area high schools collaborate at Penn State Fayette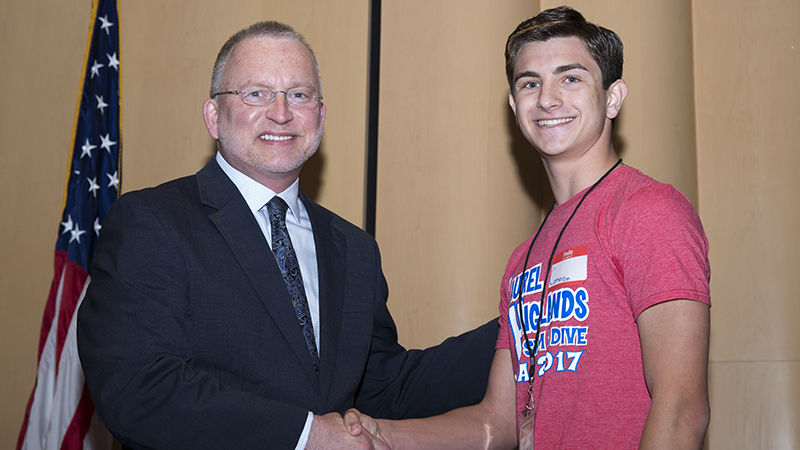 LEMONT FURNACE, Pa. — More than 100 student leaders from 12 area high schools gathered at Penn State Fayette, The Eberly Campus April 21 for the Pennsylvania Student Leadership Consortium (PASLC). This annual event, now in its fifth year, was hosted by the Student Forum at Laurel Highlands High School (LH).
Chad Miller teaches 10th grade Honors World Cultures, as well as 11th and 12th grade Advanced Placement Psychology courses, and is also the faculty adviser for the Student Forum at LH, and explained that he and other instructors are mostly just observers at these events. Miller said the first PASLC, which took place at Peters Township High School, was formed as a collaborative experience so that students from surrounding high schools could share ideas on how they run their high schools. Rather than have adults doing the talking, it was about students having small-group discussions to share ideas and best practices on topics central to high school, such as planning pep rallies, talking to principals, responding to social media bullying, organizing successful fundraisers, or participating in community service activities.
When LH volunteered to host this year's PASLC, and the Student Forum met to begin planning for it, Miller realized there was a logistical issue: not enough space. When Randy Miller, the district's director of secondary education, heard about the problem, he reached out to Joe Segilia, the director of outreach and continuing education at Penn State Fayette for assistance with a location for the event.
Segilia was only too happy to help them secure a facility. "I thought it was a fabulous idea because it brings students to the campus and it shows our outreach to the community — particularly the education community," he said.
All it took to complete the arrangements was one meeting between the LH representatives and Penn State Fayette Chancellor and Chief Academic Officer Charles Patrick, who was pleased to offer the PASLC free use of the Community Center and classrooms across the entire campus.
"We think it's a terrific program," said Patrick. "We have had such a great working relationship with Laurel Highlands. Chad Miller has provided us the ability not just to bring everybody in, but also the ability to have these student leaders talk to our admissions and faculty members here. So, instead of having this in the high school, by bringing it here, they not only get to do their leadership workshops, but they get to see a college setting."
Not only did he provide a venue for the 2017 PASLC, Patrick also delivered the keynote address, giving the students a 20-minute talk about leadership and what he has learned about being a good leader over the course of his career.
Chad Miller was grateful for Patrick's speech and his hospitality, saying, "Dr. Patrick literally opened the doors and said, 'Anything you guys need.' So now we have it on a college campus, which is great for us because it is a great atmosphere. Most of these schools, being from far away, have probably driven by Penn State Fayette, but have never turned in here. So it is a real college feel."
After the keynote address in the Community Center, students left for classrooms across campus where they attended breakout sessions for fine arts, team building, school spirit/social media, and dual enrollment/AP classes.
One of the students who enjoyed the opportunity to spend the morning collaborating with others at Penn State Fayette was Cameron Lizza, vice president of the LH Student Forum and treasurer of the senior class. Lizza was front and center at this event, as he took the Community Center's stage to welcome the students and also introduced Patrick's keynote address.
Lizza attended last year's PASLC in Belle Vernon High School, and learned there that student government is not strong enough and that collaborations like this event help to improve them. He said all of the participating schools can benefit from this event. "When we're all working together, it will help everyone, not just us," he said, "because we're getting the best ideas from all the great schools around this area."