Debbie Manchas and Joe Segilia named Outstanding Alumna and Outstanding Fellow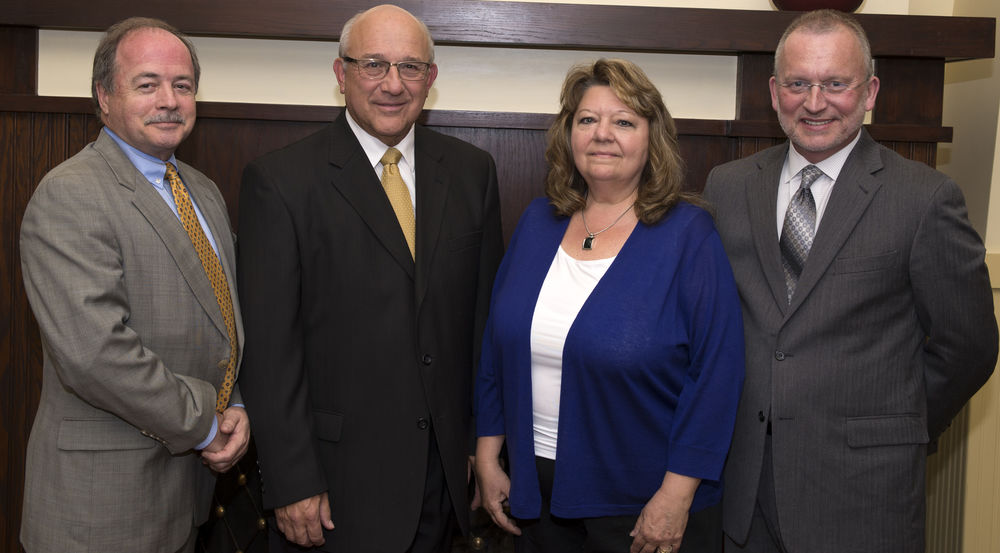 LEMONT FURNACE, Pa. — The Advisory Board of Penn State Fayette Inc. has named Debbie Powell Manchas and Joseph Segilia III, respectively, as the 2017 recipients of its Outstanding Fellow and Outstanding Alumna awards, it was announced at the board's annual meeting May 11 at the Uniontown Country Club.
Speaking on behalf of the board, Charles Patrick, chancellor and chief academic officer of Penn State Fayette, The Eberly Campus, said its members are proud to have selected Manchas as this year's Outstanding Alumna. "Debbie is a stellar example of successful graduates from our campus. Her career with the FBI, including many years in counterterrorism, was exceptional, as demonstrated by her highly acclaimed Award for Excellence from the U.S. attorney general. We are looking forward to a continued partnership with this very special alum."
Manchas, who had a 33-year career with the FBI, began her studies at the Fayette campus. She received a bachelor of science degree in administration of justice from Penn State's University Park campus, and completed postgraduate courses in forensic science at George Washington University in Washington, D.C.
After graduating from Penn State, the Smithfield, Pennsylvania, native joined the FBI, where her primary assignment was in the Counterterrorism Division at FBI headquarters, as well as the Pittsburgh office. Manchas completed her service with the bureau in its Directorate of Intelligence, where she served as the senior intelligence officer for the Intelligence Workforce and later the senior national intelligence officer for counterterrorism.
During her tenure in the FBI, Manchas traveled throughout the United States, to Guantanamo Bay, Cuba, and to various countries in Europe, the Middle East, and North Africa for her counterterrorism-related duties. She was also awarded several commendations related to her efforts, including the U.S. Department of Justice Attorney General's Award for Excellence.
Over the years, Manchas participated in a number of recruiting events on behalf of the FBI at Penn State. She also assisted in mock interviews with students at University Park, as well as guest lectures on the threat to U.S. national security by domestic and international terrorists.
Manchas retired from the FBI in December 2013 and relocated to Uniontown with her husband, Bob, a Penn State graduate and retired special agent with the U.S. Drug Enforcement Administration. Their son, J.R., is also a Penn State graduate.
Since retirement, the couple has been active in Meals With Wheels in Peters Township and at the Society of St. Vincent de Paul in Uniontown.
The Advisory Board also recognized as the Outstanding Fellow, Penn State Fayette's Director of Outreach and Continuing Education Joe Segilia, who is retiring this year.
"Joe Segilia has been an integral part of the campus community for over 23 years," Patrick said. "With him at the helm of Outreach and Continuing Education, the unit has grown into one of the most vibrant in the Penn State system and across the Commonwealth. Joe's partnership with business, industry, and government leaders has been vital to our campus and the community. Joe will be missed and we wish him well in retirement."
Segilia, who was born in Hazleton, Pennsylvania, attended West Chester State College, majoring in music education, with piano as his primary instrument.
After teaching elementary instrumental music in the Hazleton School District and giving private piano lessons in the evenings, Segilia earned a master's degree in educational administration from Penn State, where he focused on the theory and administration of adult and continuing education. He continued to teach music, but also worked part time in Penn State Hazleton's Continuing Education unit, eventually becoming that campus' director of continuing education and, later, the associate dean of continuing education at Luzerne County Community College.
Segilia left Pennsylvania to become the director of continuing education at the University of Dubuque in Iowa, until leaving to accept a position at the University of Illinois in conference administration. He later joined the University of Arizona as its director of academic conferences and institutes.
Hired as director of continuing education at Penn State Fayette in 1993, Segilia has actively been involved with four chambers of commerce, the business community, and local school districts. Additionally, he is an appointee to the Westmoreland/Fayette Workforce Development Board and currently serves as president of Fayette's County's Behavioral Health Board.
Segilia was selected in 2014 as Fayette County's Educator of the Year and has received Penn State Fayette's Administrative Excellence Award, and his team at the Fayette campus has received numerous awards, including the Best Non-credit Program in the Country, the UCEA Mid-Atlantic Award of Excellence, and the PSU VP Award for Excellence in Entrepreneurship, Innovation, and Creativity. In addition his campus unit has generated more than $32 million in grants and contracts on various programming efforts.
He and his wife, Jean, live in Vanderbilt, Pennsylvania, and have six children: Joseph, Amanda, Jennifer, Daniel, Matthew, and Leah. They also have five grandchildren: Alexander, Gabriel, Elise, Trey, and Nolan.