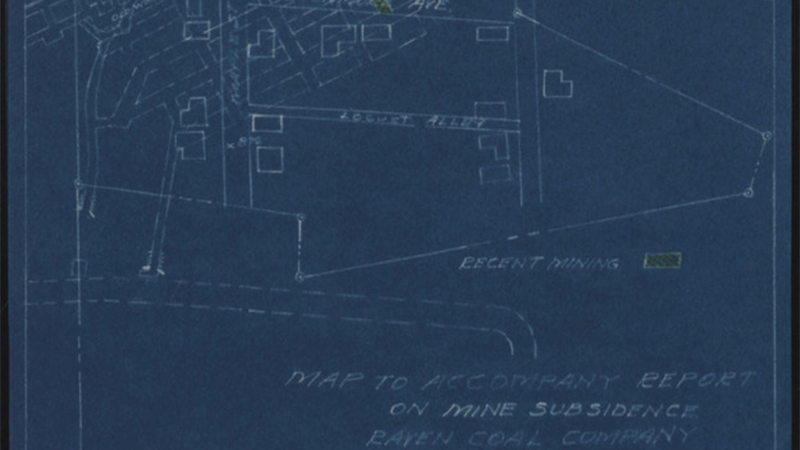 LEMONT FURNACE, Pa. — The Coal and Coke Heritage Center (CCHC) at Penn State Fayette, The Eberly Campus will be featuring a new exhibit on the significance of mine surveying in southwestern Pennsylvania. "Mapping the Mines" provides a glimpse into mine surveying, survey equipment, and how this equipment was used. Visitors will learn how to read the basic components of a survey map depicting a mine in western Pennsylvania.
CCHC archivist Amanda Peters, who created the exhibit with Adrienne Carney, a mining engineer, said Mapping the Mines offers a broader understanding of how technical and intricate mining coal was. "We're excited to offer this exhibition as an extension to our current exhibit for local miners, engineers, students, and those with mining heritage who may have interest in coal and coke," she said.
Peters placed the exhibit just inside the door of the CCHC. She thought it was the most appropriate location since mine surveying is at the start of the coal-mining process.
According to Peters, panels describing each part of the exhibit were designed to reflect a coal-mining theme, with white lettering on a black background. Black symbolizes the darkness in the mine, while white represents the light shone from behind a plumb bob.
Featured is a survey map showing Osbourne Mine No. 1 and 2 in Westmoreland County, along with a panel that explains how to read it and that also points out several details a surveyor would include on such a map. Peters believes this exhibit may help to shine a light on several other maps in the CCHC collection, especially those in the U.S. Steel Corp. records that date from 1843 to 1983.
Another component of the exhibition is survey equipment from the 1970s, including a level, transit, plumb bob, Philadelphia rod, steel chains and tripod. There are panels explaining the qualities and use of each piece to help visitors understand the process of surveying underground mine workings.
Mapping the Mines will be an ongoing exhibit at the CCHC, which is open from 10 a.m. to 3 p.m. Monday through Friday.