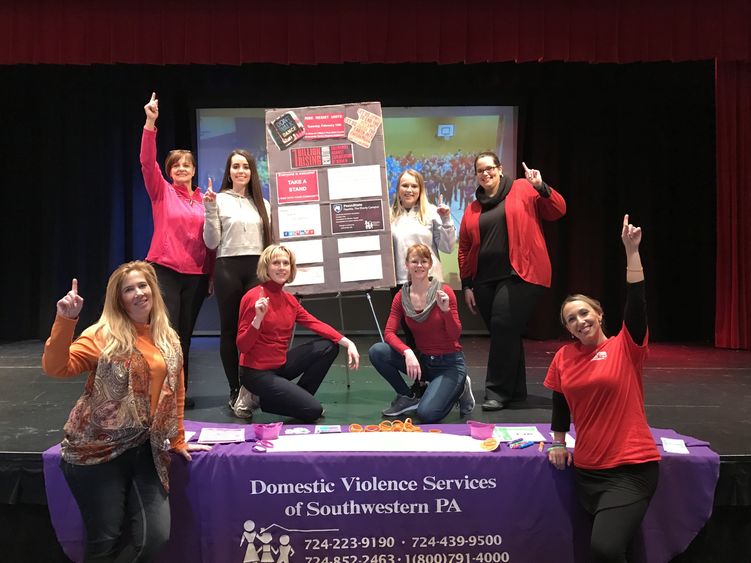 LEMONT FURNACE, Pa. — Penn State Fayette, The Eberly Campus participated in the One Billion Rising campaign with a two-hour regional event on Feb. 13 in the Community Center on campus.
The seventh annual international campaign, launched on Valentine's Day in 2012, represents a "call to action" in response to the statistic that one in three women—totaling one billion women on the planet—will be beaten or raped during her lifetime.
Each year, communities from over a hundred countries gather to dance in solidarity and defiance against all forms of violence against women, including economic, social, political and beyond.
Participants wear pink, red and black while performing a choreographed dance. Penn State Fayette's event, coordinated by Campus Nurse Jennifer Anto, was sponsored by the Community Interaction Association; the Christian Club; the Commission for Women, Fayette; the Administration of Justice Society; and the Domestic Violence Service of Southwestern PA.
Anto has helped to facilitate the event for the last three years. "This is our way of raising awareness about the high incidence of sexual violence against women and children," she said. "It's a call for everyone to unite and protect each other."
According to the campaign website, One Billion Rising encourages dance "to express joy and community and celebrate the fact that we have not been defeated by this violence, (...) to show we are determined to create a new kind of consciousness."
Global events take place from February to March. Videos and photos are aggregated at OneBillionRising.org and shared on social media with the hashtags #1BillionRising and #RiseInSolidarity.
Veteran student Lauren Esteban participated in the dance. "I'm here to support women," she said.