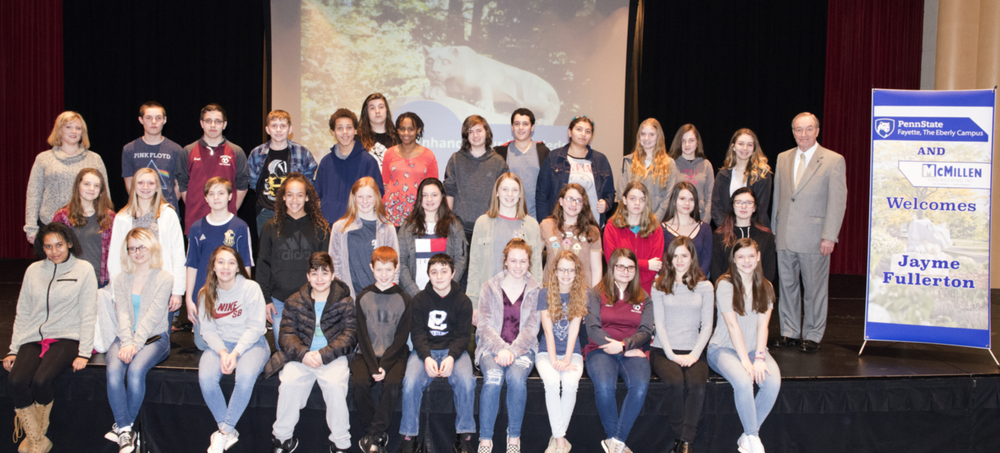 LEMONT FURNACE, Pa. — Penn State Fayette, The Eberly Campus hosted Jayme Fullerton, 1999 Uniontown High School graduate, on Monday, Feb. 19, in the Magerko Auditorium on campus in celebration of National Engineers Week.
Fullerton graduated from Penn State in 2004 with a bachelor of science in industrial engineering. Nearly a decade later, after a series of dynamic roles in business analysis, distribution, and project supply and chain management, she completed a master's degree in business administration at Villanova University. Today, Fullerton is the U.S. transportation manager at the Pennsylvania Distribution Center for Estée Lauder Companies, a global leader in the prestige beauty category.
Fullerton was introduced by Terry McMillen of McMillen Engineering in Uniontown, a co-sponsor of the event.
"We recognize the importance of encouraging students to gain an understanding of and an interest in engineering, especially at a young age," said McMillen. "That interest can often be the starting point that may lead them toward a successful career path."
Fullerton's presentation, "Know Yourself," emphasized the importance of self-awareness and proactivity in professional and personal success. She addressed an audience of community members and students from Uniontown Area School District, Albert Gallatin High School, Laurel Highlands Middle School, and Penn State Fayette.
"You have to understand yourself—your interests, your strengths," said Fullerton. "But you also have to understand your opponent. Whether your opponent is an exam you're taking or a job you're applying to, you have to do your research."
A Flatwoods, Pennsylvania, native, Fullerton developed critical thinking and practical skills by observing and assisting her father and her family's small business, Rittenhouse Auction Company.
"I was always testing, tinkering, and taking things apart," she said.
Fullerton participated in nearly a dozen diverse extracurricular activities as a student at Uniontown High School. She was the only female student selected to represent the region at Space Camp, an annual event held in Huntsville, Alabama, for which she received a scholarship provided by Robert E. Eberly. She credits Sally Ride, the first American woman to travel to space, as an early inspiration.
"It never bothered me that, in many situations, I was the only girl," said Fullerton. "I was more focused on what I wanted to do."
At Penn State's University Park campus, Fullerton "made a big campus smaller" by taking advantage of faculty office hours, tutoring, and internships, which led her to switch her major from computer science to industrial engineering. She was instrumental in the start of Penn State's Phi Sigma Rho chapter, a social sorority for female engineering students.
"Our students were thrilled to partake in the tour of Penn State Fayette and listen to our very own alumnus," said Uniontown Area School District Gifted Teacher Leslie Yarish. "Her presentation encouraged and inspired the students to explore future careers in engineering."
Today, in her managerial role at Estée Lauder, Fullerton oversees essential distribution operations for the company, which comprises over 25 brands worth $11 billion. Her work in supply chain management, she says, is informed by her foundation in engineering.
"I get all of the things to all of the places," she joked. "After so many years of simulation and theory [while studying industrial engineering], I wanted to understand and see for myself how things really work."
Fullerton concluded with a reminder that, in the midst of building a successful career, it is important to craft a life you love.
"I always wanted to buy a house, to get married, to have my two children. Those were my goals." she said. "Industrial engineering allowed me to accomplish them."