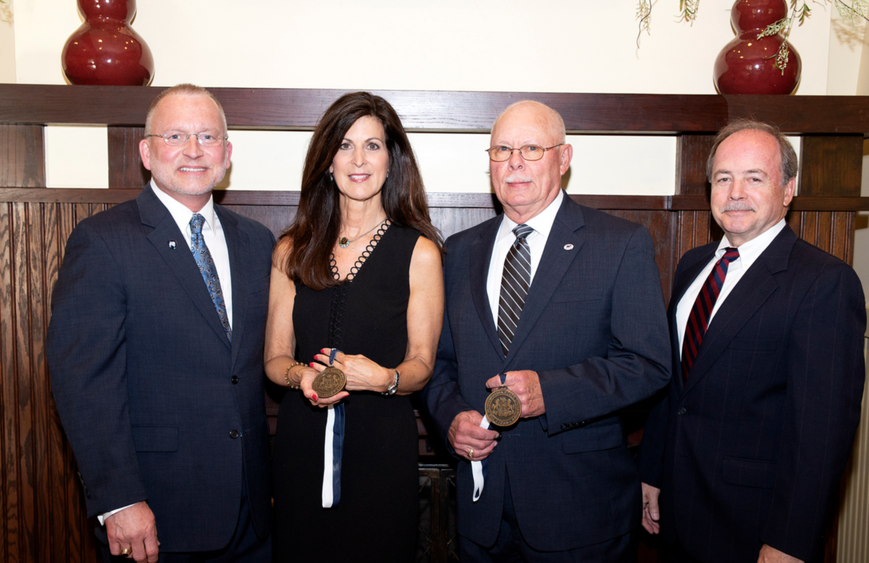 LEMONT FURNACE, Pa. — The Advisory Board of Penn State Fayette Inc. has named J. Blair McGill and Paula R. Congelio, respectively, as the 2018 recipients of the Outstanding Alumnus and Outstanding Fellow awards, presented at the board's annual meeting on May 17 at the Uniontown Country Club.
2018 Outstanding Alumnus: J. Blair McGill, retired vice president and general manager of Eastern Associated Coal
Established in 1985, the Outstanding Alumnus award honors former students of the campus whose subsequent professional achievement warrants special recognition by their alma mater.
A graduate of South Union High School, McGill retired in 2010 after 43 years in the coal mining industry. McGill attended Penn State Fayette for mining engineering. He graduated in 1971 and joined U.S. Steel, working in various management positions before moving to Birmingham, Alabama, to serve as the general manager of U.S. Steel's Southern Division.
Before joining Eastern Associated Coal Corporation, McGill served in executive positions at Island Creek Coal Company, Sun Coal's Whitaker Coal Corporation, and Canterbury Coal Company.
He is a member of the Penn State Fayette Advisory Board and Fayette's Mining Industry Advisory Board. In 2006, he received the Penn State Mining Engineering Department's Robert Stefanko Distinguished Achievement Award. Since his retirement Blair has been active in Freemasonry. He is past master of Laurel Lodge No. 651 and is currently presiding officer of the Uniontown Lodge of Perfection.
Blair resumed playing the trombone after a 40-year hiatus and now plays in the VFW Post 8543 band as well as the Post's Esprit De Corps swing band. He also played in the Augsburg German Band.
"Penn State has been a part of my life for over 50 years," said McGill. "The education I received from the outstanding teachers at Penn State Fayette gave me a solid base for a successful career."
McGill lives in Uniontown with his wife, Kathy Mickey, a Penn State Fayette alumna.
2018 Outstanding Fellow: Paula R. Congelio, vice president of finance/chief financial officer at West Virginia University
Established in 1985, the Outstanding Fellow award honors a community leader whose support of the campus has been so exemplary as to warrant special recognition. In lieu of an honorary degree, this award is the highest honor the campus bestows.
Congelio, a Freedom, Pennsylvania native, graduated from Penn State in 1983 with a bachelor of science in accounting. Congelio earned a master's degree in public administration from the Heinz College of Carnegie Mellon University.
She joined the Penn State Fayette family in 2004 as campus financial officer and director of Business Services.
She was promoted to her current role at West Virginia University in 2017.
She is a member of the Penn State Fayette Advisory Board and chairs the marketing subcommittee. She and her husband, Carmen, who she met at Penn State, have supported the campus through a student award in honor of her late sister and an endowed scholarship.
"It's always been my pleasure to serve this community we call home," said Congelio. "My family's Penn State education has enabled us to give back."
She and Carmen live in Uniontown.
More photos are available on the Penn State Flickr page.