Professional development conference seeks to understand and improve the student experience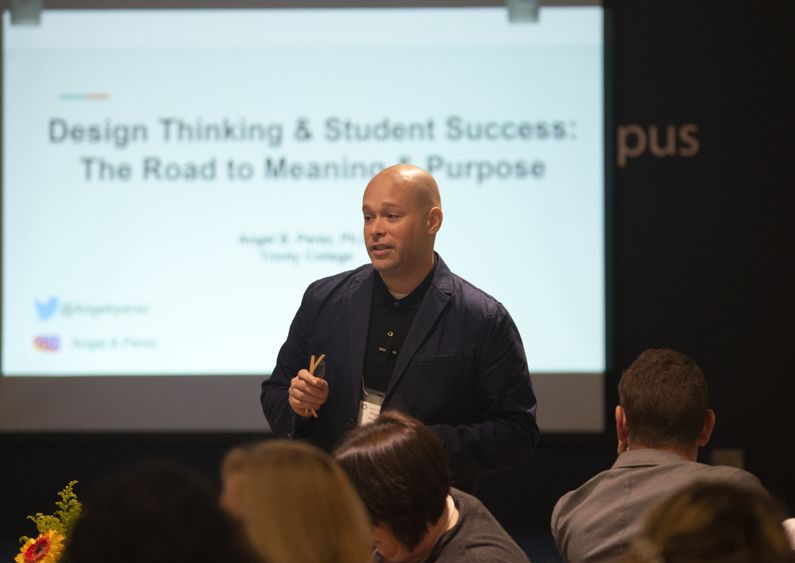 LEMONT FURNACE, Pa. — The third annual Student Success Institute was held at Penn State Fayette, The Eberly Campus on June 7 and 8.
The professional-development conference, organized by the Student Success Center, is designed to share best practices in higher education and student relations. This year, the theme was "Putting it All Together: Helping Students Construct Meaning and Purpose for Persistence." Ninety participants were in attendance.
The event commenced with a pre-conference session for Penn State affiliates facilitated by Penny Carlson, executive director for academic services and assessment at University Park, and Padma Patil, analysis and research associate for the Office of the Vice President for Commonwealth Campuses. A keynote reception followed at the Hilton Garden Inn, led by Angel B. Pérez, vice president for enrollment and student success at Trinity College.
Participants reconvened the following day for a public follow-up session by Pérez on "Design Thinking," a process borrowed from engineering and design to encourage proactive agency in the lives of students. Pérez detailed a course he leads titled "Design Your Life," in which he empowers students to engage critically with their education and career paths.
Four concurrent breakout sessions included eight workshops in motivating students, encouraging professional success through on-campus employment, reframing the academic experience through the power of storytelling and creating an inclusive culture for underserved populations. Representatives from Millersville University, Penn State Greater Allegheny, Carlow University, the University of Pittsburgh at Greensburg, Community College of Allegheny County, La Roche College, Grove City College and Thiel College presented.
"True happiness comes from designing a life that works for you," said Pérez. "The key to design is action: asking the right questions, testing solutions, creating, and recreating."