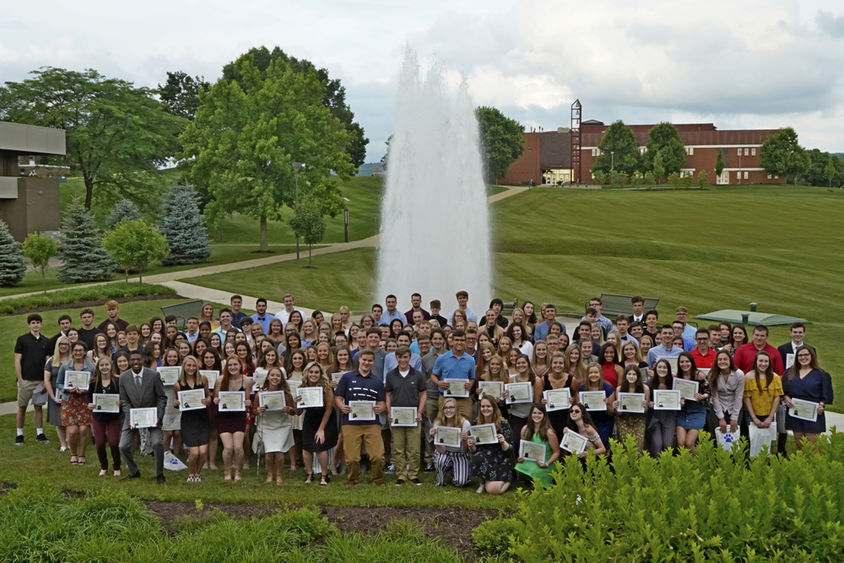 LEMONT FURNACE, Pa. — A record 174 students from area high schools were inducted into the Penn State Fayette and United Bank 4.0 Club in the 8th-annual ceremony at Penn State Fayette, The Eberly Campus on June 19. Friends and family packed the Magerko auditorium to celebrate.
The 4.0 Club recognizes students from 14 local high schools who have completed their sophomore, junior or senior years with a cumulative grade-point average of 4.0 or higher.
Speakers included Dean Julian, director of enrollment management; Gib Prettyman, associate professor of English; and Lianna Brewer, sophomore accounting student and secretary and treasurer of the Student Government Association. CJ Callahan, CPA market president and commercial relationship manager, represented United Bank.
A full gallery of photographs of the evening is available to view and download on Penn State Fayette's Flickr page. 2018 4.0 Club inductees included:
Albert Gallatin High School
James Brown
Caleb Dankle
Jael Dankle
Caitlyn Farrier
Chandler Goodwin
Aaron Hitchcock
Cassidy Knight
Kristen Knight
Haley Miller
Lauran Minerd
Jessica Myers
Maya Oravets
Alexia Pritchard
Jayden Provance
Alaina Shaffer
Brandy Sickles
Maria Sutton
Joshua Szerensci
Faith Walters
Belle Vernon Area High School
Ashlyn Ayersman
Vienna Bertram
Dawson Dimitroff
Autumn Forte
Sarah McCloskey
LeeAnn Pawlak
Katherine Ruhl
Madison Shrump
Bethlehem Center High School
Savannah Coyle
Teighan Finley
Nathan Kalamaras
Isabella Quiñones
Jessica Samol
Brownsville Area High School
Beth Ann Arnold
Jenna Bodnovich
Alaina Carney
Lydia Carney
Blake DeCarlo
Chai Diggs
Brooklyn Grant
Dylan Higinbotham
Declan Johnson
Lucas Kremposky
Sarah Lemesh
Destinie Olesko
Evan Olesko
Michael Petrock
Sainiana Waqanivalu
Salanieta Waqanivalu
California Area High School
Carmichaels Area High School
Christina Adams
Jacob Hair
Christian Mori
Kylie Sinn
Charleroi Area High School
Austin Pringle
Bella Skobel
Kaitlin Wagner
Connellsville Area High School
Gavin Anderson
Adriana Andrus
Autumn Ansell
Noelle Bodenheimer
Rachel Bittner
Cassidi Butler
Parker Carte
Zachary Coughenour
Madeline Cramer
Chase Cross
Hanna Detwiler
Alexis Geary
Christina Hall
Elizabeth Jackson
Cayde Koballa
Zakary Koslosky
Kiara Laws
Courtney Layman
Kyle Lukaesko
Morgan Lukaesko
Talbot Maruca
Paige McGaughey
Makenzie Pindro
Isabel Poorbaugh
Emily Ukasik
Kylee Ulery
Jace Upton
Luke Wascak
Frazier Area High School
Kariss Attanucci
Savannah Berklovich
Thomas Clark Jr.
Mason Davis
Skyllar Domonkos
Elizabeth Dulla
Kenadi Erdely
Kristen Hartz
Noah Harvey
Chase Hazelbaker
Isabella Kudyba
Samuel Leonard
Hattie Lindey
Nicholas Miller
Maria Moon
Justin Novak
Nick Novak
Shelby Stoner
Briona Thompson
Brianna Ulery
Sydney Varga
Geibel Catholic High School
Ryan Anderson
Josie Bittner
Cole Dorobish
Hannah Geary
Elizabeth John
Morgan Motycki
Sydney Palya
Lauren Tomasko
Jefferson Morgan High School
Laurel Highlands High School
Autumn Buchheit
Jacob Campbell
Abagail Chambers
Raegan Crofcheck
Derek D'Annolfo
Erin Egnot
Lindsay Filcheck
Abigail Filitsky
Abigail Fleenor
Samuel Frazee
Britney Galik
Kaylea Gallagher
Hailey Gray
Olivia Jo Glusica
Mikayla Golden
Daniel Grimm
Giavanna Gulino
Justin Hartsek
Alyssa Lambert-Alonso
Aidan LaRose
Jonathan Lewis
Brynn Lilley
Kristen Marmol
Abby Miller
Eli Mitchell
Garrett Myers
Jordan O'Brien
Ashley Over
Hope Purnell
Connor Rapp
Haylee Rapp
Bailey Rohm
Jenna Roscoe
Matthew Santilli
Emmie Schad
Sierra Showman
Cameryn Simpson
Taylor Smith
Timothy Smith
Olivia Soom
Katelyn Sutton
Jillian Verbus
Kaia Zungri
Southmoreland High School
Toni Brayo
Jenna Conty
Brianna Howells
Marissa Hribal
Jared Leasher
Tessa Yutzy
Uniontown Area High School
Ashlyn Barcheck
Alayna Kopacka
Josephine Maher
Karleigh Risha
Danae Rugola
Jeremy Saliba
Luke Smearcheck
Noah Trimmer
Lyndsi Urani
Silvio Urani IV