City Charter High School students get a taste of the Nursing program in their backyard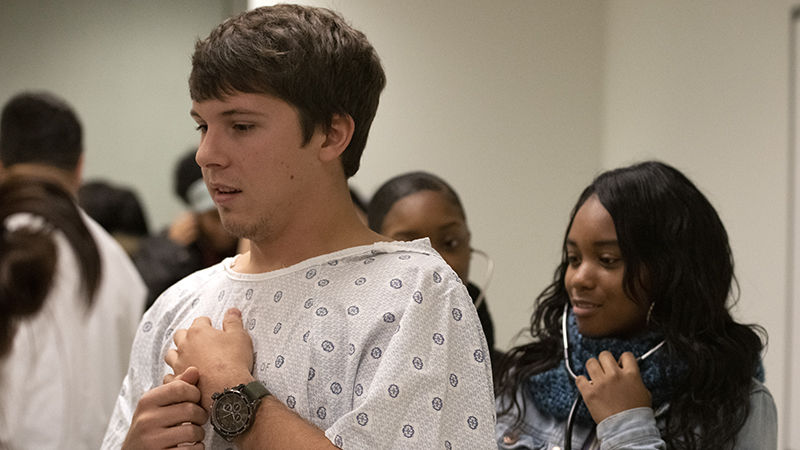 LEMONT FURNACE, Pa. — Penn State Fayette, The Eberly Campus, hosted 27 students from City Charter High School for the annual Nursing Exploration Day on Oct. 26.
City Charter, located in downtown Pittsburgh, is consistently ranked among the top high schools in the district. Students attend an extended school day year-round with emphases on technology, career planning and internship opportunities.
"Because City Charter prioritizes practical experience, visiting Penn State Fayette for Nursing Exploration Day was a perfect opportunity for the students," said Rachel Banks, assistant director of Penn State Admissions-Pittsburgh. The department is dedicated to increasing college access for Pittsburgh students and enriching the diversity of the Penn State student body.
The Fayette campus, located an hour from downtown Pittsburgh, is the closest Penn State campus with a Nursing program. Fayette students are provided with on-site clinical experience at Uniontown Hospital, Excela Health, J. W. Ruby Memorial Hospital, Mon Valley Hospital, Lafayette Manor, and Highlands Hospital, among other real-world environments.
Melissa Miner, associate teaching professor and campus coordinator for nursing, presented an overview of the bachelor of science in Nursing degree (B.S.N.), which prepares nurses for a wide array of opportunities in a high-demand industry. The Institute of Medicine recommends that 80 percent of nurses have a baccalaureate degree, at minimum, by 2020.
Students were then given a tour of the state-of-the-art Simulation Lab, including a demonstration on SimMan, an advanced patient simulator that can exhibit both neurological and physiological symptoms. Nursing Instructor Damien Zsiros led the group in the proper use of a stethoscope, while current Fayette students served as mock patients. Tammy Henderson, director of education at Uniontown Hospital, discussed career options, and admissions staff provided tours.
"It's one thing to hear an admissions counselor talk about college in your high school cafeteria," said Alesha Platt, transition manager at City Charter. "But to set foot on campus, tour the facilities, sit in on a real class, and meet other young people—that's what makes the college decision real for them."
The next Nursing Exploration Day is Nov. 9. Call 724-430-4130 to register.