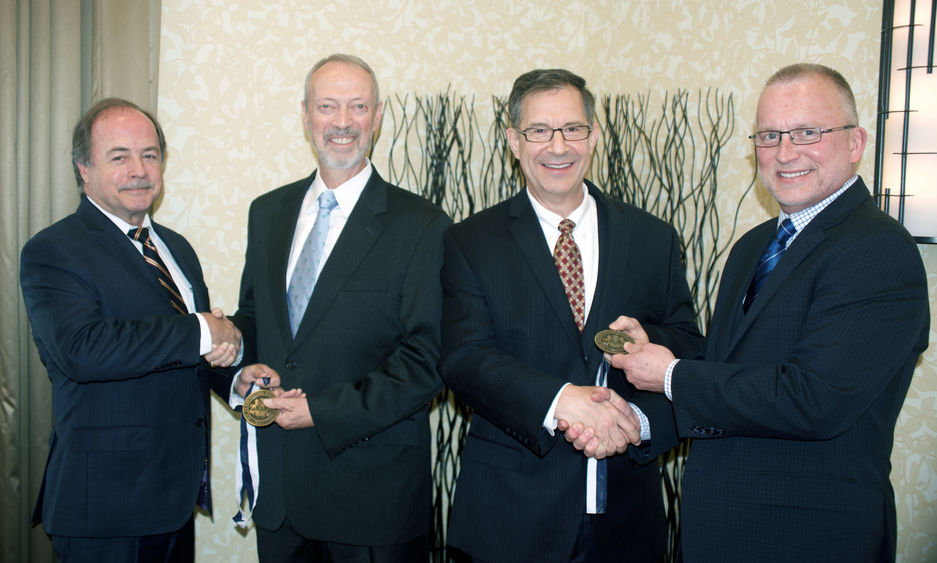 LEMONT FURNACE, Pa. — The Advisory Board of Penn State Fayette Inc. has named Robert E. Eberly Jr., president of The Eberly Foundation, and Mark Kempic, president of Columbia Gas of Pennsylvania Inc. and Columbia Gas of Maryland Inc., as the respective recipients of the 2016 Outstanding Fellow and Outstanding Alumnus awards. The ceremony took place at the board's annual meeting, held May 12 at the Uniontown Hilton Garden Inn, where both men were presented with medallions.
Charles Patrick, chancellor and chief academic officer of Penn State Fayette, The Eberly Campus, complimented board members on their selection of this year's awardees. "I'm grateful to the advisory board for recognizing these two special individuals," he said. "Robert Eberly Jr. is a true friend of our campus, visiting often and continuing to support our students through the generosity of The Eberly Foundation. Mark Kempic, after graduating from Penn State Fayette, went on to become an exemplary leader in the gas industry. Robert and Mark represent the best of Penn State Fayette and our partnerships with the community. We are very glad to be able to recognize their lifetime achievements."
The advisory board voted to bestow its 30th Outstanding Fellow award on Eberly, who joins his father, Robert (1987), and his aunt, Carolyn Eberly Blaney (2001), as recipients of this award.
Eberly is a graduate of Uniontown Area Joint Senior High School, Cornell University and the University of Pittsburgh School of Law. After beginning his legal career in private practice, he then returned home to work for his family's bank and oil and gas company before joining the U.S. Navy's General Counsel's Office, from which he retired as a senior civilian trial lawyer. On his retirement, Eberly was awarded the Navy Meritorious Civilian Service Medal.
After retiring, Eberly and his wife, Kathy, moved to Hilton Head Island, South Carolina, where he founded and served as the first president of the Lowcountry Civil War Round Table. In 2005, his book, "Bouquets from the Cannon's Mouth, Soldiering with the Eighth Regiment of the Pennsylvania Reserves," was published.
Eberly has been involved with his family's charitable endeavors for many years. In 2011, he was elected by the board to serve as the fifth president of The Eberly Foundation, which focuses its efforts on providing scholarships to deserving Fayette County students at area colleges and universities. Last year, in recognition with the 50th anniversary of Penn State Fayette, the foundation pledged $100,000 to the campus.
Kempic earned an associate engineering degree in solar heating and cooling from Penn State Fayette. He also holds a bachelor's degree in computer and information science from the University of Pittsburgh and a juris doctor degree from Capital University School of Law. Kempic holds a license to practice law in four states: Ohio, Pennsylvania, Maryland and Massachusetts.
Kempic's first role at Columbia Gas was as a part-time night dispatcher, and he later served the company as an engineering technician, operations research analyst, information center analyst, gas supply analyst and corporate planning coordinator.
From 1992 to 1998, Kempic worked in private practice until returning to Columbia Gas as an attorney and later serving as an assistant general counsel for its corporate parent, NiSource. In his current role as president, Kempic is responsible for designing and executing legislative, regulatory and external strategies, with a focus on delivering safe, reliable and efficient natural gas customer service to more than 446,000 customers in Pennsylvania and Maryland.
Kempic, a native of Uniontown, resides in Pittsburgh.