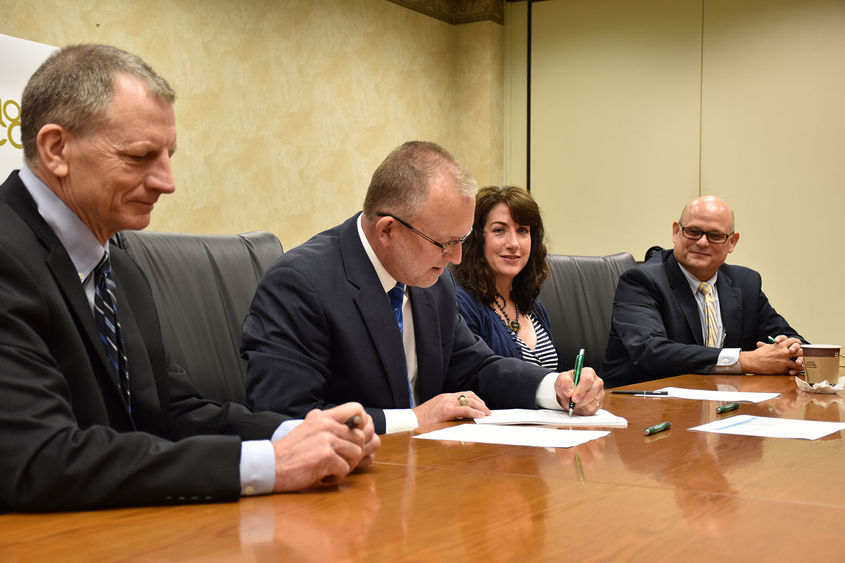 Administrators from Penn State and Westmoreland County Community College (WCCC) signed an articulation agreement June 16 to facilitate the transfer of WCCC credits into baccalaureate degree programs at 14 Penn State campuses.
The Penn State majors included in the terms of the agreement are bachelor of arts / bachelor of science in administration of justice; bachelor of science in business; bachelor of arts in communications; bachelor of arts in English; bachelor of science in human development and family studies; bachelor of arts in letters, arts, and sciences; bachelor of science in information sciences and technology; and bachelor of arts / bachelor of science in psychology. All programs are not delivered at every campus.
In addition, the agreement will include specific program-to-program articulation for the registered nurse to bachelor of science (RN to B.S.) in nursing at Penn State's Fayette, New Kensington and Shenango campuses.
The agreement, which is effective immediately, was announced by Charles Patrick, chancellor at Penn State Fayette, The Eberly Campus; and Tuesday Stanley, president of WCCC, at a signing ceremony in the college's Founders' Hall. They were joined by Andrew Egan, chancellor and chief academic officer of Penn State Greater Allegheny, and Kevin Snider, chancellor of Penn State New Kensington.
"Penn State Fayette is pleased to partner with Westmoreland County Community College to provide access to high-quality academic opportunities for students in our shared service area. This articulation agreement moves us forward in that effort by streamlining the transfer process for students," said Patrick.
Patrick said the agreement ultimately expands access and affordability of Penn State degrees by providing a clear understanding of which courses student should take while earning and associate degree at WCCC.
Stanley characterized the agreement as a "monumental leap" forward because it will allow WCCC students to transfer seamlessly into Penn State campuses. "I know some of our students have struggled," she said. "We're making the Commonwealth better."
According to Snider, the agreement will build on his campus's current partnerships with WCCC and Westmoreland County. He said, "We're involved in county efforts to try and stimulate economic development, and so this is a nice, logical next step."
Egan said residents of the region will benefit most from this agreement. "We work all the time with students who are disadvantaged and need to have an opportunity to access higher education, so I think this helps us do that," he said.
Now that the agreement has been formalized, WCCC students who earn an associate degree will be provided with an academic pathway to transfer into a parallel bachelor's degree program at Penn State's Commonwealth campuses. The coordination of transferable coursework, supported through academic advising, will enable a successful transition for students.
When transferring to Penn State, students must apply for admission, submit required transcripts, and meet the University's admissions requirements. Penn State will waive application fees for WCCC students who apply for baccalaureate programs.
For information about academic and scholarship options, contact the admissions office at WCCC or a Penn State campus.