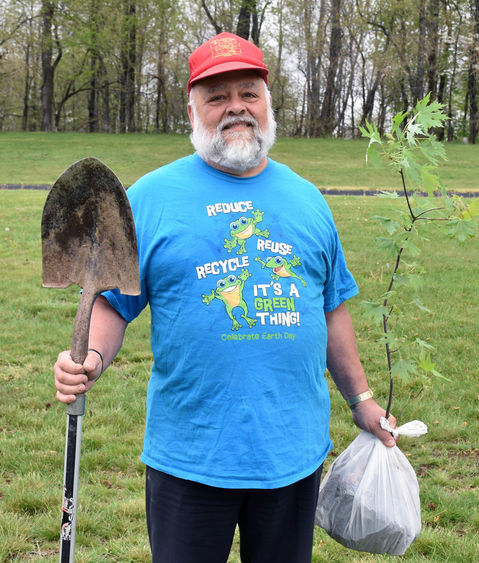 LEMONT FURNACE, Pa. — If you noticed young maple trees, their roots contained in bags, strategically placed around Penn State Fayette, The Eberly Campus, then they came from longtime faculty member David Meredith's herb garden.
If you passed a group of people picking up litter along University Drive recently, then it was Meredith and one of his classes.
If you happened to see students planting trees on campus last week, they were brought there by Meredith, their instructor, an associate professor of engineering.
"I've always been doing the environmental thing," said Meredith, who as a youth was named an "outstanding recycler" in his native Franklin County, Ohio. He even worked his way through graduate school by collecting and selling paper to a recycler.
Meredith's chosen profession has augmented his desire to protect the Earth. "We as engineers cannot ignore our impact on the environment with our projects. So, we have to think outside of the box," he said.
Those outside-of-the-box ideas are easily seen at and around Penn State Fayette in the springtime.
For the past 10 years, Meredith has carefully removed wayward saplings sprouting from his garden and brought them to campus, encouraging staff, students and fellow faculty members to plant them at home.
This year, Meredith, who has been observing Earth Day since its inception, found a new way to help the planet. He and students in his STS 233 Ethics and the Design of Technology class planted 125 trees on campus.
"We need to plant trees because they are producing the oxygen that I want," said Meredith, who estimates he himself has planted more than 100 trees throughout Fayette County.
Meredith got a second group of his students involved in another activity for Earth Day 2016. He and his STS 150 History of Metals class picked up 24 bags of litter along the highway that runs in front of the Fayette campus.
"I live here," said Meredith, a resident of Uniontown. "It's a part of my responsibility as a citizen to clean up my own front yard."
It is also part of Penn State Fayette's responsibility to keep that section of the road clean, as the school agreed to maintain it about 30 years ago. A sign posted on the northbound side of University Drive near campus indicates the highway is maintained by Penn State Fayette.
Meredith was one of the original campus employees who volunteered to maintain that busy 2-mile stretch of highway. Over the decades, their number has dwindled; however, his pupils have given him new blood for his earthly cause.
"There were 10 of us or so that went out on the first highway campaigns," said Meredith. "A few years ago, there were three of us, and now one of them is dead and the other is retired."
"So," he said with a satisfied smile, "I'm recruiting the next generation to help out with it."