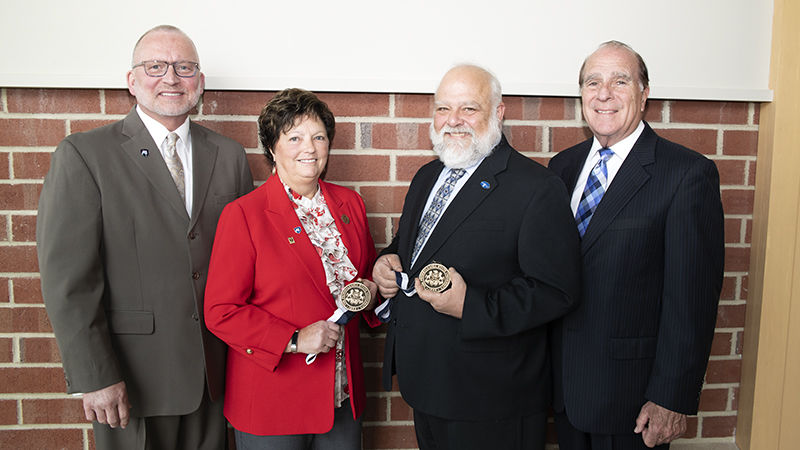 LEMONT FURNACE, Pa. — The Advisory Board of Penn State Fayette Inc. has named Rebecca Ambrosini and David Meredith, respectively, as the 2019 recipients of the Outstanding Alumna and Outstanding Fellow awards, presented at the board's annual meeting on May 16 at the campus Community Center.
2019 Outstanding Alumna: Rebecca Ambrosini
Established in 1985, the Outstanding Alumni award honors former students of the campus whose subsequent professional achievement warrants special recognition by their alma mater.
Ambrosini, born in Latrobe, holds a bachelor of science in nursing degree from Penn State and a master of science in nursing degree from the University of Pittsburgh.
She served as the vice president and chief nursing officer of the Fayette Regional Health System for more than 15 years, where she was responsible for the oversight of the endoscopy and radiation treatment centers and the hiring of more than 30 physicians in the community.
Ambrosini is a Penn State Master Gardener, board chair of Chestnut Ridge Counseling Services, past president of the American Heart Association, and member of numerous committees and community organizations.
She retired in 2013 and began volunteering with her husband of 38 years, Al Ambrosini, a fellow alumnus. For six years, they have worked with Circles Out of Poverty to help families in Fayette County become financially independent. They enjoy traveling and playing golf when not volunteering.
"Every relationship is like a bank account — we make deposits and withdrawals," she said. "The relationships in my life are what have made me successful."
2018 Outstanding Fellow: David Meredith
Established in 1985, the Outstanding Fellow award honors a community leader whose support of the campus had been so exemplary as to warrant special recognition. In lieu of an honorary degree, this award is the highest honor the campus bestows.
Meredith is an associate professor of general engineering at Penn State Fayette. He holds a bachelor of science degree in mechanical engineering from Ohio State University and a master of science degree in energy conversion from Colorado State University, where he was awarded a two-year fellowship from Eastman Kodak.
In his 40 years of service at the Fayette campus, he has developed and facilitated numerous STEM programs for children and teens of all ages, including MathCOUNTS, Pi Day, JETS/TEAMS, E-Days and The Girl Power! Program, which earned national recognition.
Meredith has authored more than 24 publications and presentations, including two books. He writes questions for various professional exams. He enjoys performing with the Ohio State Marching Band Alumni and is a decorated scout. He lives with his wife, Linda, in Uniontown, and has two sons, Mark and Scott, both Penn State graduates.
"I never considered teaching a job. It's a reward," he said. "Engineering happens behind closed doors. We need to open those doors and show kids what it feels like to see your design take off."