The Student-Athletes Graduate and Excel (SAGE) program addresses the academic, social, and emotional needs of student-athletes.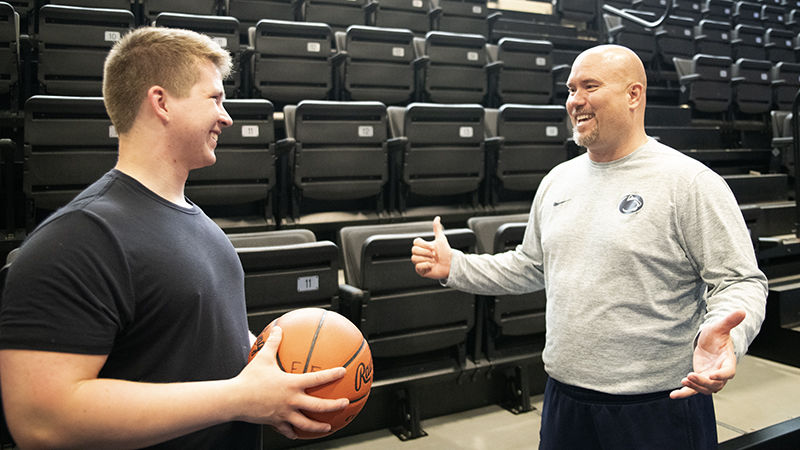 LEMONT FURNACE, Pa. — Student-athletes at Penn State Fayette, The Eberly Campus have demonstrated significant improvement in academic achievement since the establishment of the Student-Athletes Graduate and Excel (SAGE) program in 2015.
Per Penn State academic standards, students who do not maintain a grade-point average of at least 2.0 become ineligible to participate in athletic programs. According to university data, the average rate of ineligibility was roughly 25% over a five-year period, contributing to a sharp decline in student-athletes and campus support of athletic programs. SAGE, now in its ninth semester, is a collaborative effort to reverse this trend.
A dramatic impact
Participation in SAGE is mandated for student-athletes struggling with academic performance. The program, in part, requires two hours of supervised study time in the Student Success Center each week. Upon improving academic performance, student-athletes are released from the supervised-study requirement with a letter of congratulations.
The program was developed by the former Retention Task Force and is facilitated by Mary Budinsky, learning center coordinator, and Nicole Hill, assistant teaching professor of mathematics, in collaboration with Lou Zadecky, athletic director.
"SAGE not only strengthens our athletic programs but ensures that our student-athletes are marketable post-graduation."

— Lou Zadecky, athletic director
Hill noted that student-athlete academic performance was the highest recorded across all Fayette athletic programs in 2018, and eligibility has soared to 94%.
"Out of 113 student-athletes, 20 participated in two hours of weekly supervised study time last fall and 11 were approved to exit the program, due to increased GPA, by the end of the semester," she said.
"Every day that you come to school is a job interview," said Zadecky. "We have student-athletes who rely on the program for consistent academic success. SAGE not only strengthens our athletic programs but ensures that our student-athletes are marketable post-graduation."
A comprehensive system
All incoming, transfer, and returning student-athletes, regardless of academic performance, are required to attend two-hour "study tables" each week, a proactive routine that ensures built-in study time.
"An academic liaison works with each coach and team to address individual academic concerns so that coaches may respond and intervene," said Stephen Oberly, lecturer of kinesiology and assistant athletic director. Oberly serves as a faculty liaison for the baseball team. "This flow of information creates a consistent network of contact with the student-athlete."
SAGE also prioritizes the social and emotional wellbeing of student-athletes. SAGE initiatives include bolstering athlete publicity efforts online and in the community, hosting celebrations, encouraging faculty and staff attendance at games, maintaining safe zones for nonjudgmental support, and tasking team captains with encouraging peers.
"This flow of information creates a consistent network of contact with the student-athlete."

— Stephen Oberly, lecturer and assistant athletic director
Additionally, each team is offered the support of a "den family" consisting of volunteer staff members who are neutral, dependable, and available on campus. Den families attend athletic meetings and games, in addition to providing resources to student-athletes.
"As a den parent, it's my responsibility to help our student-athletes to reach their academic goals and cheer them on in their athletic achievements," said Rita Gumbert, assistant to finance officer and volunteer golf coach.
The benefits abound
But how receptive are student-athletes to compulsory academic support?
"They might have resisted initially, but it has caught on. They want to remain eligible to play, they want to be accountable to their teammates, and they have begun to recognize the personal and academic benefits. Overall, we've seen growth in maturity," said Budinsky. "They're more responsible and professional, and they hold themselves and their teammates to a higher standard."
Jamar Rashad Dues, a transfer student from Uniontown, graduated in 2019 with a bachelor of science degree in health policy and administration from Penn State World Campus and an associate of science degree in physical therapist assistant from Penn State Fayette. "I didn't play college basketball before I came to Fayette, so SAGE taught me how to study effectively with my time," he said. "The support is genuine. The SAGE staff sits in the front row at games. It means a lot."
SAGE has generated unexpected outcomes, too. Participants gain resource literacy by becoming familiar with opportunities and tools offered by the Student Success Center. They build meaningful relationships with faculty and staff contact-points throughout the program, making them more likely to seek help. This is particularly important for out-of-state student-athletes, who benefit from increased social support on campus.
"The support is genuine. The SAGE staff sits in the front row at games. It means a lot."

— Jamar Rashad Dues, 2019 Penn State graduate
Eric Silbaugh, a 2019 graduate of the electrical engineering technology program, from Uniontown, worked full time in addition to taking classes and competing on the golf team. "I've introduced classmates to the Student Success Center and tutoring resources that I've discovered through SAGE," he said. "Mary has helped me with anything I need. If she doesn't know an answer to my question, she connects me with someone who does."
Leading the way
The SAGE staff hopes to see continued success from the program, which they have presented as an adaptable model for retention among the higher education community.
"Being involved in a program that has been positive and impactful makes the time commitment meaningful for all involved," said Hill. "There is a reason why student-athletes refer to our campus as their 'Fayette family.'"
The athletic department at Penn State Fayette features 12 men's and women's programs; numerous coach, athlete, and team accolades; and participation in national and regional championships. For more information, visit www.psfathletics.com.