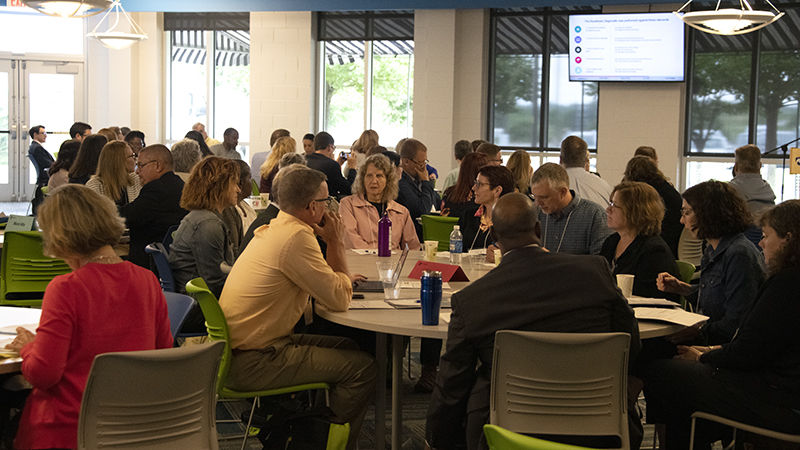 LEMONT FURNACE, Pa. — Campus academic officers (CAO) from all 19 Penn State campuses convened at Penn State Fayette, The Eberly Campus, for the annual summer meeting on June 19, followed by a pre-conference session on June 20 and the fourth-annual Student Success Institute, open to regional higher-education professionals on June 21.
The events were combined to afford the opportunity for key stakeholders from Penn State's campuses to review new policies and procedures and to assess readiness to increase student retention and enhance student success, supporting a charge from the Office of the Vice President for Commonwealth Campuses (OVPCC) to promote collaboration across the campuses.
"Student Success is core to the Penn State mission and deserves to be at the center of our attention," said Madlyn Hanes, vice president for Commonwealth Campuses and executive chancellor. "These events brought together talented colleagues working collaboratively to identify strategies that will positively impact the student learning experience."
Fayette hosts commonwealth campus academic officers
At the CAO meeting, leadership discussed promotion and tenure reviews, general education program renewal processes, and student retention processes. Fayette is the first commonwealth campus to host the CAO summer meeting in recent history.
Improving student success
On the following day, Penn State affiliates gathered for a pre-conference session to continue a collaboration with the Starfish Enterprise Success Platform. The implementation of Starfish at all Penn State campuses began in 2016 to manage academic advising notes and allow instructors to provide early progress reports to students. Penn State intends to use the platform to effectively manage student success programs so that more equitable learning outcomes can be achieved. The pre-conference session illustrated Starfish's role in helping Penn State to build a culture of intervention and information-sharing aimed at proactively promoting student success.
Through progress reporting, for example, the platform allows instructors to alert other professionals at Penn State who can provide proactive outreach to individual students to connect them with valuable services or offer other needed help. Additionally, as Starfish reaches a stage of mature implementation, it will help assess which services and interventions best keep students on track towards reaching their academic goals.
The session was facilitated by Penny Carlson, assistant vice president and executive director for academic services and assessment in the Office of the Vice President for Commonwealth Campuses (OVPCC) at University Park, along with David R. Smith, associate dean of advising and executive director of the division of undergraduate studies, and Ellyn Artis, Starfish strategic consulting practice director.
"Through the engagement of colleagues from across the University, strengthened by our collaboration with Starfish, Penn State's Commonwealth Campuses are making substantial strides toward enhancing our environments to better support student persistence at Penn State," said Carlson.
Following the session, participants traveled to the Historic Summit Inn Resort to kick off the fourth annual Student Success Institute with higher-education professionals from around the region.
Making connections
The Student Success Institute, organized by the Penn State Fayette Student Success Center, is designed to share best practices in higher education and student engagement. This year's theme was "Exploring the Student Success Ecosystem: Embracing the Increasingly Interdependent Higher Education Environment." Over 150 participants were in attendance.
Thomas J. Thomas, dean of university college at Wilkes University, delivered the keynote. The next day, attendees participated in four concurrent breakout sessions, including workshops on interdepartmental collaboration, student-athlete success, parental and faculty support, and more.
Representatives from Penn State campuses -- Fayette, Beaver, Hazleton, Behrend, Shenango, and Brandywine -- presented, as well as representatives from California University of Pennsylvania, Westmoreland County Community College, Slippery Rock University, Carlow University and Vineyard Columbus church.
"As we work to bridge the many disparities inherent in higher education, it does us well to remember that it is in those gaps between expectations and reality where serious learning and tremendous personal growth take place for us as well as our students," said Thomas.
According to Charles Patrick, chancellor and chief academic officer at Penn State Fayette, "It's an honor to host representatives from the Penn State campuses as well as the OVPCC. Our Penn State colleagues were welcome guests, and these collaborative efforts are essential to address the myriad challenges to ensure student success throughout the Penn State system."