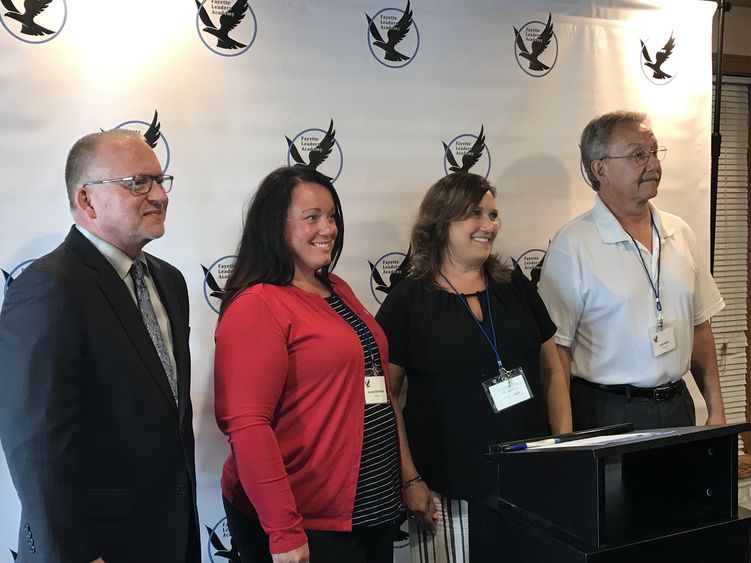 LEMONT FURNACE, Pa. — The Fayette Leaders Academy hosted the annual homecoming event for the incoming cohort and alumni of the Fayette Leaders Academy on Aug. 20 at Bud Murphy's Sports Bar and Restaurant.
The program, in its fifth year of operation, is a partnership of Penn State Fayette, The Eberly Campus and Fay-Penn Economic Development Council. The nine-month course is developed for business professionals and facilitated by representatives from business, government, education, nonprofits and the arts.
While the course traditionally engages participants in collaborative community service projects, such as renovations to the East End United Community Center and Sheepskin Trail in South Union Township, this year's cohort will have the opportunity to develop a comprehensive report to be used as a resource across the county.
"The population in Fayette County is significantly declining as the younger demographic seems to increasingly favor urban areas," said Bob Shark, executive director of Fay-Penn. "This cohort will study existing reports, survey former and current residents, and develop recommendations to attract and retain young talent in the area. These findings will become a blueprint for implementation by later cohorts and local organizations."
Charles Patrick, chancellor and chief academic officer, addressed the inductees, saying, "You are at the ground level of an exciting opportunity. Your research and recommendations for how we might make Fayette County a better place to live will impact this community for years to come."
2019-20 inductees include: David Artis (Chestnut Ridge Counseling Services), Regina Baker-Young (NiSource), Mary Cofield (Columbia Gas), Lisa Cunningham (NiSource), Melissa Dyer (COE Distributing), Tiffani Ellsworth (Somerset Trust), Kailee Firestone (PT&E Wireless), Tricia Homonai (Penn State Fayette), Rebecca Johnson (Penn State Fayette), Jeff Maharowski (Columbia Gas), Brian Moody (First Federal of Greene), and Becky Wadsworth (Somerset Trust).
Companies and prospective participants may contact Jessica Firmstone, business development coordinator and general facilitator for Fayette Leaders Academy, at [email protected] or 724-437-7913 ext. 217