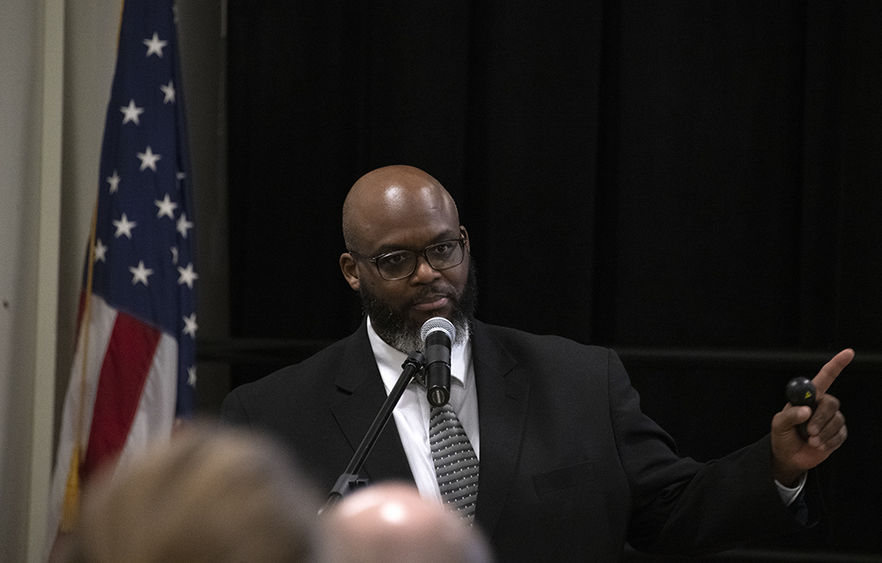 LEMONT FURNACE, Pa. — Penn State Fayette, The Eberly Campus hosted a discussion with Fred Saffold III, CEO and founder of The True Black History Museum, on Feb. 13, in the latest installment of the Fayette Speakers Series.
Saffold established the True Black History Museum in 2010 to highlight and celebrate the contributions of African Americans in the arts, sciences, sports, entertainment, education and politics. The current traveling exhibit, "A Tribute to the African-American Journey," is comprised of over 150 authentic artifacts and original documents from historical figures from the late 1700s to the 21st century, including Booker T. Washington, Mary McLeod Bethune, George Washington Carver, Rosa Parks, Frederick Douglass, Angela Davis, President Barack Obama, and more. Selected artifacts were displayed in the Student Center prior to and following the presentation.
Iman Young, a sophomore business management and marketing student from Silver Spring, Maryland, introduced Saffold. Young is a member of the Business Club and the Student-Veteran Association, a reservist in the United States Army, and a member of the Penn State Fayette men's basketball team.
Saffold asked the audience, "What happens if you are told your people have no history? You become devalued and robbed of your sense of self. We travel the country and intentionally disrupt spaces in order to fill those gaps, to represent the African American experience that has been intentionally suppressed and distorted throughout history."
He shared quotes, photographs, and artifacts from the African diaspora, American slavery, and the civil rights era in order to contextualize present-day issues of race in the United States.
"I want you to strongly consider becoming an ally for social and racial justice," Saffold charged the crowd. "How can you use your privilege, power, and influence to help eradicate systems of oppression against marginalized groups? I believe that everyone in this room is becoming strengthened by participating in this conversation today."
Saffold is a decorated retired lieutenant from the Detroit Police Department, where he was awarded the Police Medal of Valor and Purple Heart. He currently serves as an adjunct instructor at Wayne County Community District, teaching criminal justice and personal development courses. Saffold is a member of numerous local and national civic organizations, including the NAACP and the Urban League. He lectures nationally on issues of black history and racial justice. He holds a bachelor of science degree in business management from Ferris State University and a master of liberal studies in interdisciplinary technology from Eastern Michigan University. He is married with three adult children and resides in Metro Detroit.
The next installment of the Fayette Speakers Series will be held at 12:15 p.m. on Wednesday, March 25, in the Student Center of the Williams Building on campus. The event, to feature Douglas J. Leech, founder of DLJ Advisors, is free and open to the public.