Penn State Fayette entertains community with free outdoor concert and fireworks show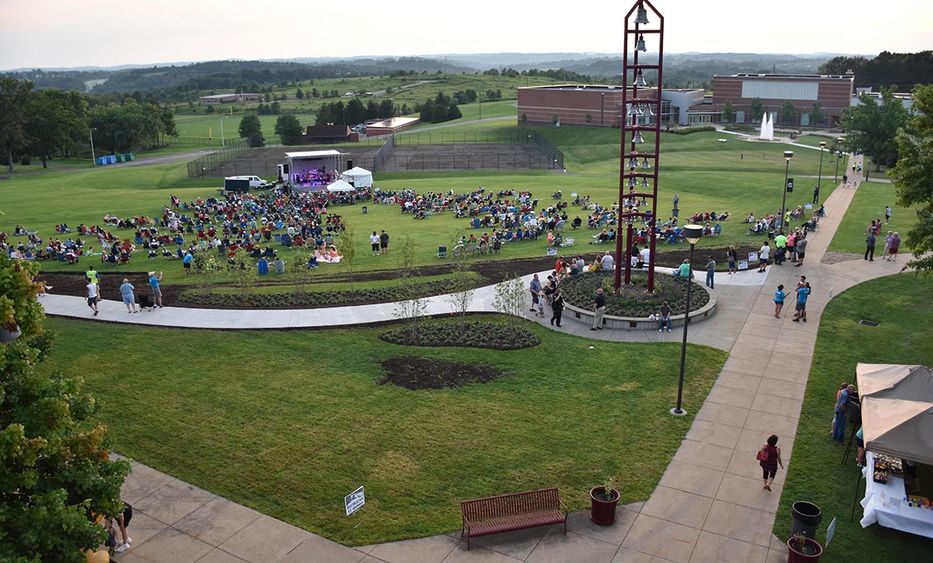 LEMONT FURNACE, Pa. — On a warm, late-August evening at Penn State Fayette, The Eberly Campus, an audience of about 1,200 people sang, danced and rocked out to "Hotel California," "Life in the Fast Lane," and all of the Eagles' hit songs at an outdoor concert by On the Border – The Ultimate Eagles Tribute (OTB).  
The crowd, which was composed of all ages, really got into this remarkably authentic-sounding group of singers and musicians, crowned as the greatest Eagles' tribute band in the world by AXS-TV. As dusk turned to darkness, a sea of cellphone lights swayed in harmony from upraised hands, and many even got up from their chairs and blankets to dance.
Most of the audience were fans of the Eagles and said they were impressed by the musicianship of OTB's five members, who also played a few songs from Joe Walsh and Don Henley's solo years during their 90-minute performance.
Charles Patrick, chancellor and chief academic officer at Penn State Fayette, thought OTB was as good as last summer's Beatlemania show, which generated such rave reviews that the campus decided to host another outdoor concert this year.
"Penn State Fayette, The Eberly Campus takes great pride in being an integral part of the community — not only by providing a world-class education, but by organizing events to bring our community together," Patrick said.
"This concert, featuring On the Border – The Ultimate Eagles Tribute, followed by a fireworks display, is made possible through an arts endowment established by the generosity of Joe Hardy," Patrick added. "We are extremely grateful to Mr. Hardy for his years of support of our campus and this community."
Prior to the OTB concert, more than a hundred Penn State alumni gathered to renew old friendships at a barbecue reunion. They also got to watch the show from a reserved area close to the stage.
After the performance, a fireworks show by Little Big Shots, a local company, brought what many said was an enjoyable evening to a close.
As he and his family were walking to their car, Connellsville resident Joe Gillespie, a longtime fan of the Eagles, expressed appreciation for the evening's entertainment.
"I saw On the Border win on TV and so I was really excited to see them perform," he said. "They sounded great — just like the original group. Thanks to Penn State Fayette for bringing them here. It was a really memorable night."