WVU Children's receives $400 check from Penn State Fayette undergrads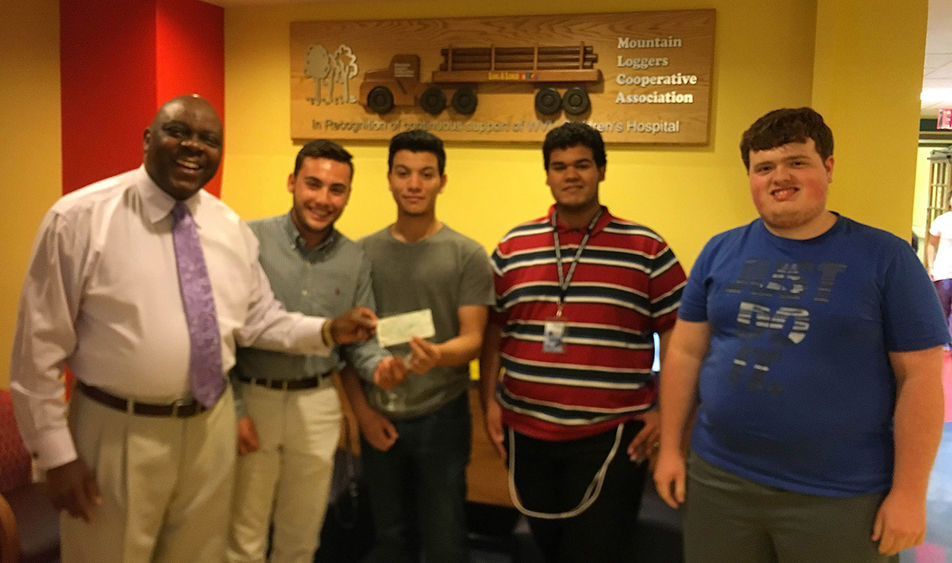 LEMONT FURNACE, Pa. — Penn State Fayette, The Eberly Campus is known for its impressive fundraising for Penn State's Penn State IFC/Panhellenic Dance Marathon, having been the first campus to raise more than a million dollars for children with cancer. Demonstrating that concern for sick children does not stop at the state line, however, six undergraduates from the Fayette campus donated part of their summer paychecks to the Children's Miracle Network at West Virginia University Children's Hospital.
The group, which included Jose Morrero, Jess Nickoles, Gabe Quiles, Nick Fronzick, Lucas Baranski, and David D'Antonio, were classmates in Penn State's Pathways to Success: Summer Start (PaSSS) program, which was available at some Commonwealth campuses. PaSSS gives first- and second-year students a head start on college by taking two classes in addition to working part-time on campus.
The WVU Children's Hospital donation originated in a class taught by Russ Filburn, a senior instructor in communication arts and sciences. He divided students into groups and asked them to think of some way to help a nonprofit organization — either by raising funds, volunteering or collecting supplies.
It was first-year student David D'Antonio who suggested that his group donate to WVU Children's Hospital. D'Antonio said he wanted to support WVU Kids because it is part of the Children's Miracle Network, a nonprofit organization that raises funds for children's hospitals, including Penn State Children's Hospital, as well for medical research and community awareness of children's health issues.
"We didn't want to burden people on campus or friends," said D'Antonio, "so we each donated whatever we wanted out of our summer work-study positions and also asked our immediate family for donations."
Rather than mailing a check, four of the young men traveled to Morgantown to make their $400 donation in person.
Lora Edgell, who is director of the Children's Miracle Network at WVU Children's Hospital, was impressed when she learned that the students had donated part of their summer wages.
"This generation of students is very giving, and we are humbled that these students would help someone they do not know, in their time of need," said Edgell.
Edgell said the PaSSS students' donation will go to support sick children and their families.
"On behalf of WVU Children's, I would like to thank the students at Penn State Fayette, The Eberly Campus for thinking of our sick and injured children. Donations such as these truly make a difference in the lives of our patients," she said.
Reflecting on their summer class project, D'Antonio said the members of his group were surprised they had amassed a substantial amount of money rather quickly.
"If we had more time, we could have raised a lot more," he said, adding, "That's something to think about for the future!"