Johnathan Garlow and JoAnn Jankoski named Outstanding Alumnus and Outstanding Fellow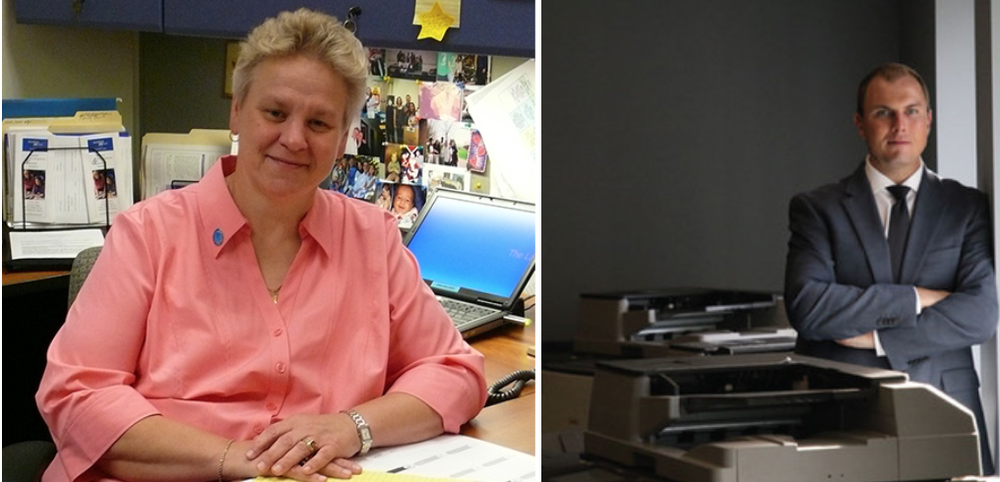 LEMONT FURNACE, Pa. — The Advisory Board of Penn State Fayette Inc. has named Johnathan Garlow and JoAnn Jankoski, respectively, as the 2020 recipients of the Outstanding Alumnus and Outstanding Fellow awards.
2020 Outstanding Alumnus: Johnathan Garlow
Established in 1985, this Outstanding Alumnus award honors former students of the campus whose subsequent professional achievement warrants special recognition by their alma mater.
Garlow is the president and CEO of Ford Business Machines, a technology solutions company founded with a customer centric focus. He earned a bachelor's degree in architectural engineering from Penn State, which enhanced his natural ability to turn theoretical concepts into real-world applications.
Garlow's forward-thinking concepts have led to Ford's expansion throughout western Pennsylvania and northern West Virginia, with future goals of expansion into eastern Ohio.
He and his wife, Kelli, love the outdoors and beauty of the Laurel Highlands area. He is passionate about supporting his local community and believes that its success, both economically and socially, is driven by the philanthropic involvement of community business leaders.
Garlow is an Eagle Scout and member of the Westmoreland Fayette Council of the Boy Scouts of America, Rotary Club, YMCA Board, Fay-Penn Economic Development Council, Challenge Program Board, and Redevelopment Authority of Fayette County. In 2015, he received the Herman Buck Award for volunteerism and services rendered outside of the profession.
"Penn State Fayette gave me the foundation to be able to grow our business and the ability to give back to our local community," said Garlow. "The opportunities that Penn State Fayette provides to our future leaders will help solidify a bright tomorrow for the area."
2020 Outstanding Fellow: JoAnn Jankoski
Established in 1985, the Outstanding Fellow award honors a community leader whose support of the campus had been so exemplary as to warrant special recognition. In lieu of an honorary degree, this award is the highest honor the campus bestows.
Jankoski, known affectionately as "Dr. Jo" on campus, earned a bachelor of science degree in social work and a master's degree in community mental health at California University of Pennsylvania.
She served the Uniontown community for 15 years at Chestnut Ridge Counseling Services before accepting a position as clinical director of children and family services at Fayette County Behavioral Health. She received her second master's degree, in clinical social work, from West Virginia University, and a doctorate degree in counselor education and supervision from Duquesne University.
Jankoski taught at Alfred University, in New York, before accepting an instructor appointment and, later, a tenure-track position at Penn State Fayette, where she is currently an associate professor of human development and family studies.
On campus, she is the faculty exit interview officer; the ombudsperson; the faculty athletic representative for the Pennsylvania State University Athletic Conference; and a member of the Behavioral Threat Management team, the New Student Orientation team, the Coalition of Equity, the Inclusion, Diversity and Equity Alliance team, and the Student Athletes Graduating and Excelling program. She is also a member of Coalition Building in Underserved Communities in PA, a Penn State research group funded by a grant through the Consortium to Combat Substance Abuse.
Jankoski has received the Teaching Excellence Award, the Scholarly Excellence Award, and the Service Excellence Award from the Fayette campus, as well as the University-wide Excellence in Advising Award.
She has served as chair of the Fayette County Drug and Alcohol Commission, co-chair of the Fayette County Human Trafficking Task Force, chair for the Southwest Region Citizen Review Panel, and eucharist minister for four Roman Catholic churches in Uniontown. She volunteers as a regional leader and disaster mental health specialist for American Red Cross.
Additionally, she is a member of the Fayette County Children and Youth Advisory Board; the Fayette County Child Death Review Team; the Board of Directors for Domestic Violence Services of Southwestern PA; the Pennsylvania Western Region Continuum of Care; and the Fayette County Suicide Task Force.
"I am honored, grateful and blessed to be a recipient of this award," Jankoski said.