The campus garden will serve as a living lab for students to learn about horticulture, nutrition and economics.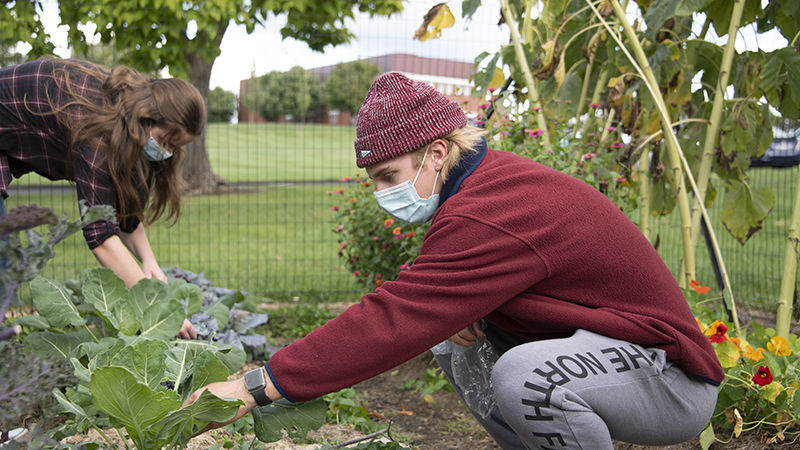 LEMONT FURNACE, Pa. — This spring, Penn State Fayette, The Eberly Campus, established "One Garden," a vegetable garden designed to provide fresh food and immersive learning opportunities for the campus community.
The 40x40-feet demonstration garden marks a symbolic return to the campus' history. The University House, built in 1834, along with 27 acres of the campus, were home to the Garner family dairy farm until 1968.
"The campus garden will serve as a living lab for students to learn about horticulture, nutrition, and economics," said David Meredith, retired associate professor of engineering, who has led the development and maintenance of the garden.
A collaborative effort
Plans for the project began in the fall of 2019 with support from a group of 20 students, faculty and staff.
Development for the garden, which is located near the University House, started in early spring before the University announced a transition to remote learning due to the coronavirus pandemic.
On a quiet campus, the maintenance crew installed a deer fence around the garden's perimeter. Chuck Roman, campus landscaper, rototilled the sod, incorporated compost, and provided grass mulch to retain soil moisture and control weeds.
Paul Coltus, research technologist, built and prepared the raised beds and mulched the walkways. Billie Jo Yuhaniak, administrative support staff, along with Coltus and Meredith, did the sowing. The group also met virtually with gardeners from other Penn State campuses to compare notes and share ideas.
New growth
The garden consists of 14 3x16-feet raised beds, each dedicated to a specific family of plants — cabbages, greens, legumes, warm-soil crops and root crops — which will be planted successively and rotated each year to mitigate diseases and pests. Other plants include sweet potatoes, acorn squash, sweet corn, and herbs and flowers to attract pollinators.
"We are also demonstrating some vertical gardening methods with pole beans, tomatoes in cages, and cargo netting for the cucumbers and peas," said Meredith.
Crops were selected and planted to be harvested before students leave campus in late spring and after they return from summer vacation.
The soil was tested by the Penn State Agricultural Extension Service and amended with compost, nitrogen and fertilizer. While the garden is not certifiably organic, no pesticides were used.
Sharing the harvest
This season, the garden produced a total of 328 pounds of fresh vegetables, worth $828 by current market prices.
Nearly $500 worth of food was distributed to students, and $100 of food was donated to the Uniontown Salvation Army. Faculty and staff harvested and enjoyed the remainder over the summer. Tomatoes proved to be the most popular crop.
As many as 16% of Fayette County residents lack sufficient access to food, according to data collected by the Coalition Against Hunger.
"In addition to our campus food pantry, the garden allows us to provide fresh and healthy choices for students experiencing food insecurity," said Chad Long, director of student affairs.
Cultivating food literacy
"The learning experience goes beyond just growing the food and knowing how to pick it. Students need a meal that is cheap, quick to prepare, and offers balanced nutrition — and they need to know how to prepare it," said Meredith.
Joe Carei, head coach of track and field and cross country, has shared his experience as a professional chef in a series of beginner cooking lessons. In a recent lesson, Carei designed a three-course tasting menu with the garden's swiss chard, kale, leeks, acorn squash, and basil.
"None of the students had ever tasted those foods, and each of them said they would be willing to cook them again," said Meredith.
Fresh programming
Opportunities for hands-on learning experiences are as bountiful as the garden itself. To date, the garden has hosted athletic teams, a Spanish class tasked with harvesting items for an assigned recipe, and students in an art class who harvested foliage for leaf rubbings.
"Biology students can experiment with various types of soil, compare germination rates, count pollinator insects and destructive bugs, and more," said Meredith. "I have even shared some calculations I used to lay out the garden as applied problems for our math classes."
In October, student leaders completed service by harvesting the last of the garden's squash and sweet potatoes — a total of 120 pounds of food worth $290. The harvest will be shared with students living in the University Commons, of which the majority are out-of-state athletes. The group also collected sunflower seeds for the Fayette baseball team to enjoy.
Penn State Fayette hosts an annual international food showcase each spring to introduce the campus community to the flavors and history of global foodways.
"Imagine if we could grow some of those ingredients right on campus!" said Meredith. "This year we planted pole beans from India — which are red, grow over a foot long, and taste like green beans. Next year, we may try some potatoes native to Peru."
In the future, the garden may serve as a learning environment for local school districts and the community at large, Meredith added.
For more information, including the garden's Rules of Engagement, visit www.fayette.psu.edu/one-garden.