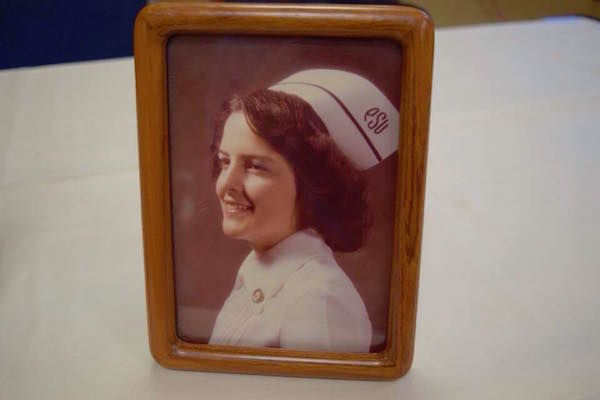 UNIVERSITY PARK, Pa. — "Today's pain is tomorrow's strength." This bit of wisdom from an unknown source can be —and indeed has been — interpreted and paraphrased in a number of ways. (One example: "For every challenge encountered there is opportunity for growth.") But Carolyn Castor Garver takes it quite literally.
Garver, a 1986 graduate of Penn State's bachelor of science degree program in nursing, devotes her life's work to helping people manage pain. A senior nurse practitioner in the Department of Anesthesiology at the University of Pittsburgh Medical Center (UPMC) St. Margaret since 2009, she has twice received the hospital's annual Patient Safety Award. In 2012, she developed a protocol to identify perioperative patients who were candidates for regional anesthesia by placing labels on their charts and arm bracelets. And in 2015, she created a patient education booklet to teach postsurgical patients how to properly use a nerve block catheter and pump.
Garver's commitment to patient care resulted in her nomination and selection for the 2016 Shirley Novosel Distinguished Nursing Alumni Award, presented annually by the College of Nursing Alumni Society to recognize an alumnus or alumna who exemplifies the spirit of nursing and the college's ideals and philosophy.
Garver qualifies on all counts, as illustrated by a colleague who described her as "reliable, dedicated (and) responsible" and "a tireless advocate for quality and safety." As the primary nurse administrator for UPMC St. Margaret's regional anesthesia and perioperative pain service, she is "a primary axis around which the service revolves."
"This is my dream job," said Garver, who traveled to State College Sept. 24 to accept her award. A Uniontown native, she began her studies at Penn State Fayette. "I always had a great interest in the sciences, which is how I grew into nursing," she said. After completing her Penn State degree, she worked in a medical-surgical unit and ended up in the intensive care unit, where she discovered her passion for high-quality patient care and safety. She went on to earn certification as a school nurse and a massage therapist, and completed her master's degree in nursing at La Roche College.
"My nursing philosophy is 'Treat every patient as you would want someone to treat your family,'" she said. That philosophy, combined with her spiritual motivation and positive attitude, has proven to be Garver's formula for success.
The Shirley Novosel Distinguished Nursing Alumni Award was established in 1996 in memory of 1979 alumna Shirley Leister Novosel, a past president of the Penn State Nursing Alumni Affiliate Program Group (APG), who passed away in 1994. Candidates must be Penn State nursing alumni who are currently active in the nursing profession and who demonstrate a caring, professional style and commitment to the profession.