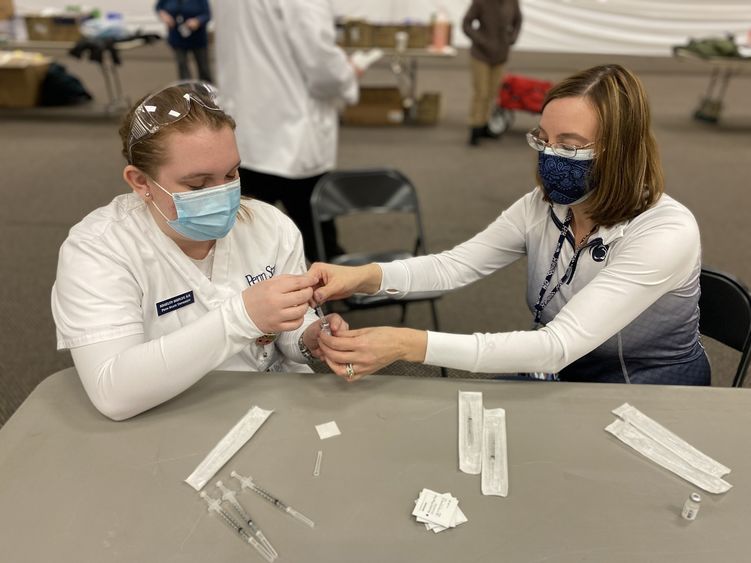 LEMONT FURNACE, Pa. — Students in the Bachelor of Science in Nursing program at Penn State Fayette, The Eberly Campus have gained critical field experience while administering COVID-19 vaccinations in the region.
On Feb. 5, upper-level nursing students helped to administer 450 vaccinations at Monongahela Valley Hospital — one of the University's clinical partners — and 340 vaccinations at the Stockdale Volunteer Fire Department. Students returned to both locations on Feb. 26 and March 1 to provide second doses to patients.
"We value the partnership we have with the College of Nursing to provide valuable learning experiences," said Paula Bassi, director of staff education at Monongahela Valley Hospital. "This year provided a unique opportunity for this long-standing partnership with a shared commitment to providing life-saving vaccines to a most appreciative community in need.
"The support from the College of Nursing was immediate and sustaining with support for multiple vaccine clinics. It was gratifying to see and experience the expertise and professionalism of the students. We appreciate the academic leadership from the school and its instructors."
Wendy Edgar, lecturer in nursing at Penn State Fayette, and other University faculty have helped coordinate and assist students in the clinics, including Melissa Miner, campus coordinator for nursing; Valerie Vanderhoff, assistant teaching professor; and instructors Deborah Stoy, Alison Hawk and Janet Ritenour.
On Feb. 19 and 20, students assisted at a vaccine clinic at Uniontown Mall, sponsored by the Fayette County COVID-19 Vaccine Task Force in cooperation with WVU Medicine's Uniontown Hospital. Students helped to administer 1,000 vaccinations each day, or 125 per hour.
"These clinics have been wonderful opportunities for our students and faculty to help our clinical and local partners and to give back to the community," said Edgar. "Our students have really risen to the challenge."
 "It was really cool to be part of history. I can look back and tell my kids I was part of a change."

-- Felicity Yauger, a senior nursing student from Uniontown
Josh Phillips, a sophomore nursing student from Uniontown, was excited to apply practical skills in a clinical setting for the first time.
"This experience helped me work on my patient interaction and building trust with patients. I had to learn different ways to ease their nerves and get their minds off the vaccine," Phillips said.
"It was good to see our community come together. I got to make a connection with patients," said Felicity Yauger, a senior nursing student from Uniontown. "It was really cool to be part of history. I can look back and tell my kids I was part of a change."
"It's amazing to make a little bit of difference in the world by giving one little shot," said Lauren Showman, a junior nursing student from Mt. Pleasant. "Everyone should have a role in a vaccine clinic — even if it's just passing out stickers — because we're making history one shot at a time."