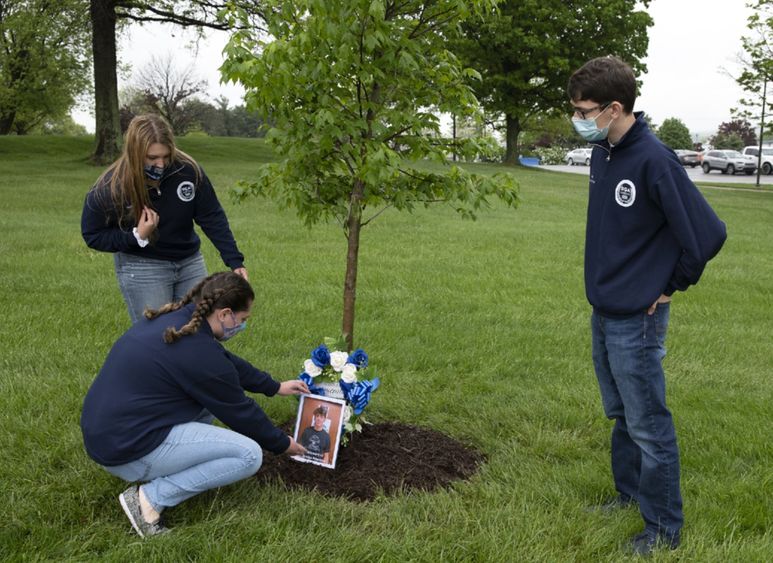 LEMONT FURNACE, Pa. — Penn State Fayette, The Eberly Campus held a memorial tree dedication in honor of two students, Brandon Peterson and Scott Black, on May 5.
Peterson, a multi-sport varsity athlete and graduate of Southmoreland High School, was recruited to join the Fayette men's basketball team for the 2020–21 season. He was involved in a motor vehicle accident and died on Dec. 22, 2020, at the age of 18.
Black graduated from Uniontown High School, Fayette County Career & Technical Institute and Pittsburgh Technical Institute before pursuing a bachelor of science in Electromechanical Engineering Technology (EMET) at Penn State Fayette. He died unexpectedly at his home on June 12, 2020. He was 24.
The Student Government Association (SGA) coordinated the planting of two young maple trees near the campus' Nittany Lion Bench to memorialize the students, joining a tree dedicated to the late student Trevor Thomas in 2019.
In attendance at the dedication were Chancellor Charles Patrick; Chad Long, director of Student Affairs; Alexis Williams, outgoing SGA president; Maria Catalina, SGA president-elect; and Jacob Levendosky, SGA vice president-elect. The group adorned the trees with blue and white wreaths and photographs of Peterson and Scott.