Rodriguez joins the University in the Office of the Senior Vice President for Commonwealth Campuses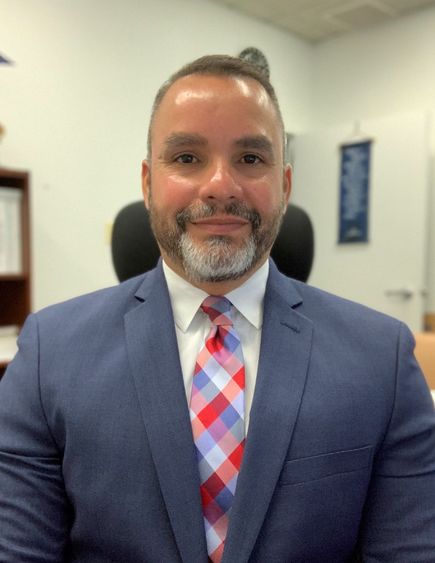 UNIVERSITY PARK, Pa. — Carlos Rodriguez, a financial management professional with more than 20 years of experience in governmental budgeting, has been named assistant vice president and executive director of budget and planning for Penn State's Commonwealth Campuses, effective Aug. 23.
Working within the Office of the Senior Vice President for Commonwealth Campuses, Rodriguez will report to Kelly Austin, interim senior vice president and executive chancellor for the campuses. Rodriguez succeeds Patti Cochrane, who retired on June 30.
"I am pleased to welcome Carlos Rodriguez to the Office of the Senior Vice President for Commonwealth Campuses," Austin said. "I believe that his many years of experience managing large and complex budgets with the federal government will serve the campuses well. I look forward to working closely with Carlos, serving our Commonwealth Campuses and continuing to deliver on the University's land-grant mission by being a key access point for students and being an economic driver across the state."
In this role, Rodriguez will assume responsibilities for overall Commonwealth Campus budget planning and management impacting the 19 undergraduate Commonwealth Campuses, Penn State Great Valley and the Office of the Senior Vice President for Commonwealth Campuses.
Rodriguez brings over two decades of successful financial management experience with research, development and implementation of budgetary strategies in the U.S. government and higher education.
"I am excited to work with the University to continue supporting and advancing the goals and mission of the Commonwealth and its students," Rodriguez said. "As a graduate of Penn State Fayette, The Eberly Campus, I understand first-hand the importance of the Commonwealth Campuses and how vital they are in providing a world-class education to the community of Pennsylvania, as well as their economic impact on the commonwealth."
Rodriguez joins the University from his position as budget director for the Office of Administration at the U.S. Department of Housing and Urban Development (HUD). There, Rodriguez is responsible for a budget of over $400 million. His responsibilities include budget oversight, management, control, execution, formulation, optimization and analysis. As director, Rodriguez developed budget justifications on complex funding issues and assisted with policy development and strategic planning.
Before his tenure as budget director within HUD, Rodriguez served as a supervisory budget analyst from 2014 to 2017 at the U.S. Office of Personnel Management. In this position Rodriguez was responsible for the formulation and execution of the agency's $2.2 billion annual operating budget. Rodriguez managed the development and implementation of an agency-wide multimillion-dollar budget management system. Rodriguez received a Special Act Award for his dedication to the role and ability to reallocate substantial monetary sums for various government agencies via careful budgetary processes.
Prior to his role with the U.S. Office of Personnel Management, Rodriguez served as a budget analyst for the Department of Homeland Security from 2010 to 2014, where he oversaw a $3.2 million budget.
Rodriguez is a former Penn State employee via his work with the Applied Research Lab as a business/financial manager for the Undersea Weapons Office from 2006 to 2009 and facility manager/business analyst for the Distributed Engineering Center from 2002 to 2006.
Rodriguez served in the U.S. Army as a Reserve Engineer O-3, and retired from the Army in 2020. Rodriguez was an enlisted service member from 1999 until 2005 and an officer from 2005 to 2020. Rodriguez received an MBA in project management from Grantham University and a bachelor's degree in business administration from Penn State.