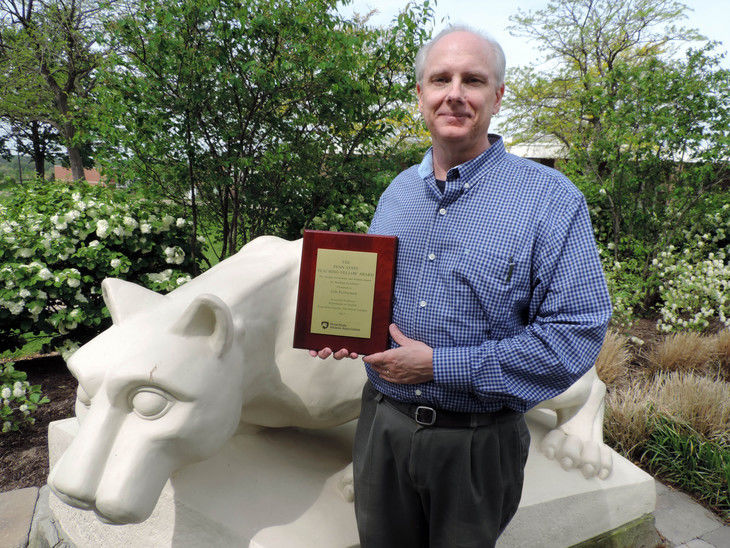 LEMONT FURNACE, Pa. — Gib Prettyman, associate professor of English and honors program coordinator at Penn State Fayette, The Eberly Campus, has received a captain's chair to commemorate his 25 years of service at the campus.
Prettyman holds a doctorate in English from the University of California Irvine. At Fayette, Prettyman previously served as English program coordinator and University College English discipline coordinator. Before joining the campus in 1996, he was a faculty member at Colorado Mesa University.
He has taught a range of classes, including world literature, American studies, popular culture and folk culture, science fiction literature and film, utopian studies, and more. He was the recipient of the Penn State Fayette Teaching Excellence Award in 2012 and the University-wide Penn State Teaching Fellow Award in 2017.
Prettyman's scholarly work has been widely published, and he has presented over 30 scholarly papers. In 2015, he was the keynote speaker for the Midwest Conference on Utopian Studies at Valparaiso University. In 2000, he won the Arthur O. Lewis Award presented by the Society for Utopian Studies. His extended service as the society's treasurer was recognized with the Larry E. Hough Distinguished Service Award in 2017. He also served as associate editor of the annual scholarly journal Resources for American Literary Study, edited by Jackson Bryer and Richard Kopley.
In observance of Penn State tradition, members of faculty and staff eligible for the Twenty-Five Year Service Award Program may select from five styles of chairs, including captain-style and rocking chairs, all of which display the University seal.
Prettyman said, "In the short term, it can be hard to see for sure what impact we have on students, especially at the campuses. Frequently I teach students for their first year or two and then they go to University Park or elsewhere. But over time, I've seen more and more of my students become leaders in the community and even here on campus. Persisting for 25 years assures a certain amount of perspective. To be honest, that much perspective is a little vertiginous — I suspect that's why the reward is a chair!"
Prettyman and his wife, Karen, who currently serves as campus registrar, have been married for 36 years and are the proud parents of two daughters, Greer and Kate.