Penn State Fayette's Student Veterans Association obtains funds to help build future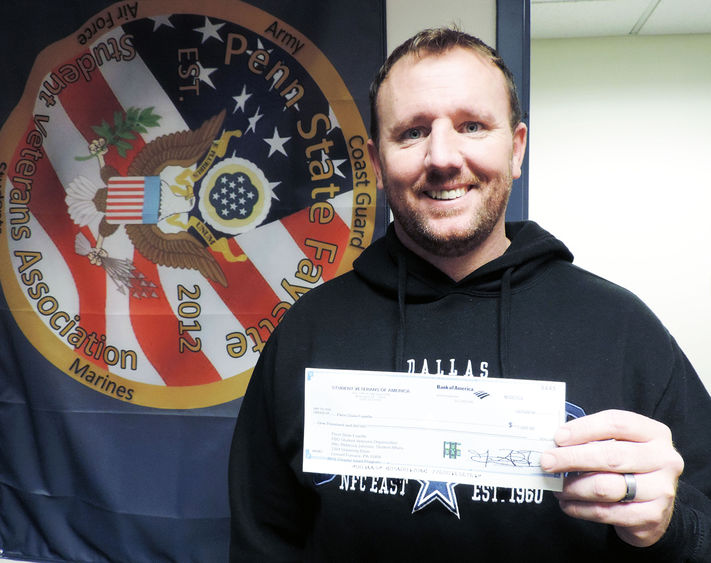 Dan Sparks, president of the Student Veterans Association (SVA) of Penn State Fayette, The Eberly Campus, got an early Christmas present Dec. 5, when he received an email from the Student Veterans of America informing him that his chapter had received a $1,000 grant.
"Your chapter has shown commitment and ingenuity, and we applaud your success," wrote Eric Gage, director of chapter services. "These grants have been generously funded by Bank of America. We hope that you will use them to continue to support student veterans, Student Veterans of America's mission, and to implement your business plan."
Sparks had applied for a chapter grant after attending the SVA Leader Summit in the nation's capital last summer. At that weekend workshop, the Business major learned about writing and presenting a business plan, as well as submitting proposals to funding sources — one of which resulted in $1,000 for the Fayette SVA chapter.
The Fayette campus organization is active in the community, completing two projects a year, and is currently planning a march from Uniontown to Connellsville to draw attention to issues facing veterans.
Sparks, who will soon be transferring to Penn State Altoona to finish his degree, has a long-term goal for the Fayette campus SVA and its $1,000 grant: using the funds to raise money and eventually help student veterans.
As a father of three, Sparks is well aware that a lack of money for living expenses can be a big obstacle to a college degree and a better life. Since many vets are unable to take advantage of their GI Bill education benefits because of life's financial obligations, he wants to make it easier for them.
"I am hoping that after next semester they continue this and apply for another grant, and keep building these funds to where we become more self-sufficient and can start offering veteran scholarships," said Sparks. "It would help take away some of that hardship and help people continue on with their education."