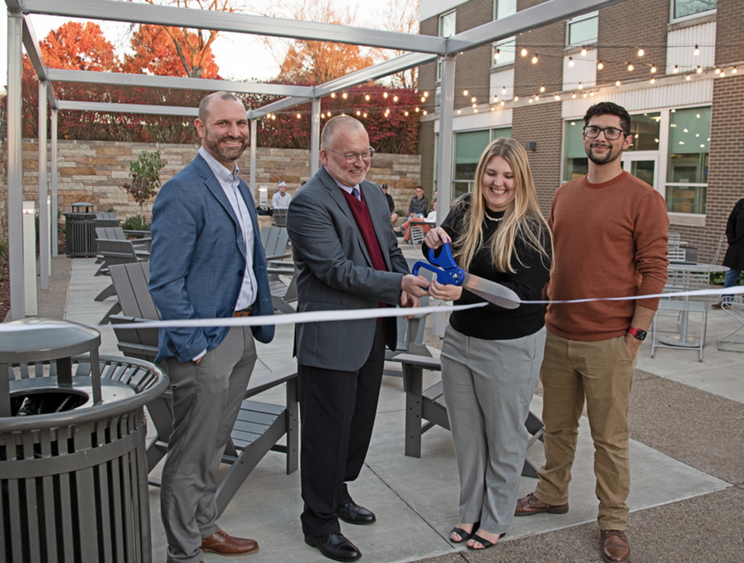 LEMONT FURNACE, Pa. — In October, the campus community dedicated Penn State Fayette's new Outdoor Student Lounge — a project led by the Student Government Association (SGA) and funded by Penn State's Student Initiated Fee.
The Outdoor Student Lounge, which is adjacent to the Student Center in the Williams Building, is designed to serve as both a functional and recreational space for students. The space features steel pergolas; ample seating for relaxing or studying; a 10-foot concrete gas fire pit with decorative fire glass, string lighting and charging stations; and indigenous Pennsylvania plants.
"This was a major project that went through a lengthy planning process, but it is an amazing feeling to see the completed product," said Maria Catalina, president of SGA. She worked closely with the Office of Student Affairs and the Office of Finance and Business to execute the project.
"That this space was fully funded through contributed student fees makes it even more special and significant. Future Penn Staters can enjoy this space for many years, and it was all because of the teamwork between students, staff and administration," she said.
The project cost roughly $175,000 and came in under budget. Many stakeholders were involved, including Ron Kobelenske, Penn State western region project coordinator; Marcus Marasco, Penn State Office of Physical Plant project manager; Derek Kalp, Penn State Office of Physical Plant landscape architect; Dan McDowell of LaQuatra Bonci Associates Landscape Architecture; and Mike Vento of Vento Landscaping and Construction Inc.
"Our students are already enjoying the space, and they are excited about future programming opportunities," said Chad Long, director of student affairs. "The Student Initiated Fee strives to enhance the out-of-class experience for all students by supporting facilities, recreation, services and activities. The Outdoor Student Lounge is a perfect example of how student life is enhanced by the fee. I commend the student leadership for wisely utilizing fee dollars."
Student Initiated Fee Committee (2021–22):
Maria Catalina
Colby Cain
Zachary Diamond
John Loughrie
Taylor McCormick
Braydon Nitkiewicz
Ashlee Norman
Erik Pietrantoni
Hailie Rusko
Brandy Sickles