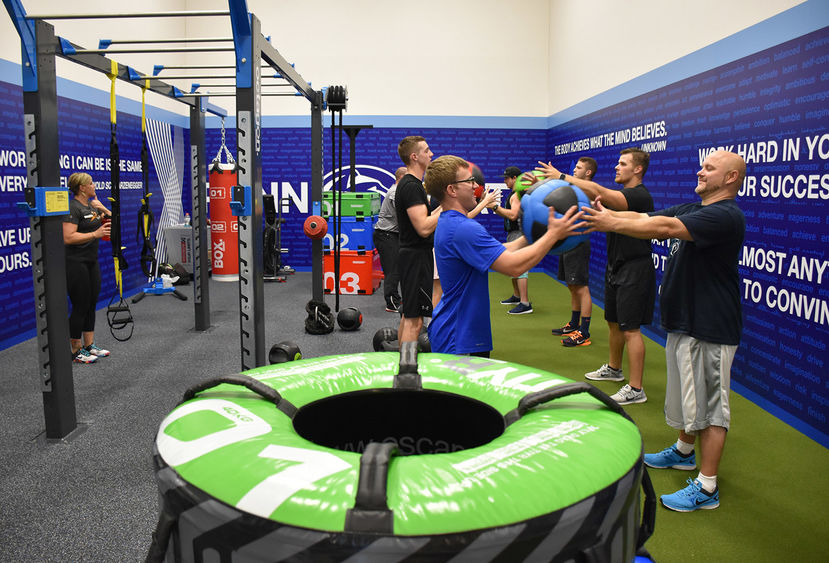 LEMONT FURNACE, Pa. — Penn State Fayette, The Eberly Campus is first among the University's Commonwealth Campuses to transform a former racquetball court into a workout space dedicated to cross-trainers and multiple users. Housed in the Community Center beside the existing gym, the approximately $50,000 Cross-Training and Group Fitness Center supplements the campus' emphasis on health and wellness, as well as its goals and initiatives toward being innovative and modern.
A relatively new concept in fitness industry trends, conversions of racquetball courts into fitness facilities create more efficient use of space. Working in conjunction with Advantage Sports and Fitness Inc. and Escape Fitness USA LLC, Penn State Fayette converted one of two racquetball courts into a spacious area that accommodates a multitude of physical fitness training practices, methods and programs.
This project was led by Stephen Oberly, kinesiology instructor and assistant athletic director at Penn State Fayette, who manages the campus' fitness facilities.
"The students deserve this," he said. "It's a great opportunity to create options for students' fitness programs, rather than the common means of training through dumbbells and treadmills."
Oberly's design goal was to create a facility that would be fresh and innovative. He noted that all funding for the center came from the Student Facility Fee, which all students pay, adding that this addition to the campus will benefit users for years to come.
The 800-square-foot center, the walls of which are wrapped in inspirational quotations and words, offers versatility in workout regimens and allows training by multiple individuals. Equipped with functional and traditional tools/resources for exercise programs, a user can perform plyometric, agility, cardio-based, strength and endurance training all in one facility. Group training can accommodate up to 14 people working at separate stations simultaneously. Facility equipment includes:
Concept II rower machine
Schwinn airdyne body bike
Hanging heavy punching bag
Rope pull
Soft stackable plyo boxes
Monkey bars
TRX strap
Half rack with Olympic bars and bumper plates
Core training accessories (Bulgarian bag, vert ball, kettlebells, medicine ball, etc.)
TiYR flipping tires
Power sled
40-foot turf lane
Besides students and others who will use the center for personal fitness, Penn State Fayette Athletic Director Lou Zadecky anticipates the center will also benefit the Roaring Lions' athletic programs by providing alternatives to training and development for the campus' team sports.
"The coaches will have an opportunity to train their student-athletes in ways they haven't before," he said. "Our athletes will be able to develop a matrix of new skills specific to their sport and personal athleticism."
The new center's potential to improve his team drew Scott Hillen, women's basketball head coach, to a pre-opening training session, which was conducted by Advantage Sport and Fitness Kim Hamilton, personal trainer. After explaining the equipment and demonstrating how to use it, she put Hillen and others, including members of the Fayette Fitness Club, as well as the campus athletic trainer John Anderson, through the paces.
During a break in his day of training, Hillen commented, "I definitely think it will be great for strength and conditioning for athletes."
Hamilton was taken by the center's unique design. "This is our first one with all wall wraps," she said. "It's absolutely beautiful, gorgeous — the color schemes that we did here."
"They picked the right amount of equipment to get everyone started and get them fired up," added Hamilton.
The Cross-Training and Group Fitness Center opens at the start of the fall 2016 semester for all students, faculty, staff and local residents who are members of the Athletic and Fitness Center.
For more information or to purchase a membership, contact Oberly at [email protected] or 724-430-4281.