Academic honor society welcomes new members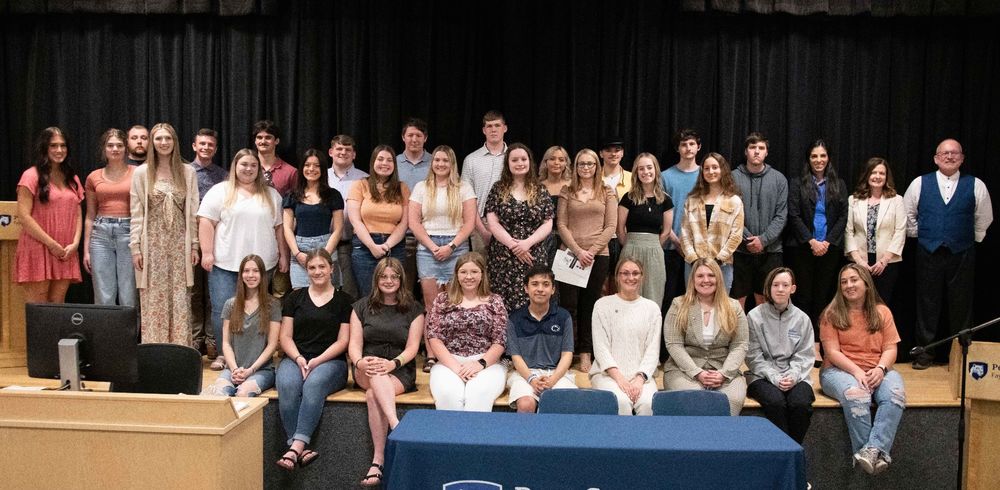 LEMONT FURNACE, Pa. — Penn State Fayette, The Eberly Campus inducted new students into Pi Sigma Phi, the campus honor society, in a ceremony attended by friends and family on April 13.
Eligible students earned a grade-point average of at least 3.5 and completed at least 30 credits of coursework. Founded in 1987, Pi Sigma Phi promotes and encourages higher standards of learning and high scholastic attainment.
Pamela Pologruto, associate teaching professor of the Physical Therapist Assistant program, imparted words of encouragement onto the inductees during the ceremony.
"Appreciate this moment," she said. "Be sure to let the accomplishments sink in. In our fast-paced society, it is easy to get caught up in the vicious cycle of moving onto the next goal rather than taking the time to savor in the glory of your achievement."
"Think about how you got here, the challenges you overcame, and recognize those who supported you whether it was a family member, partner, spouse, friend, professor, or anyone that believed in you when you may not have believed in yourself," she added.
2023 Pi Sigma Phi Inductees
Carmichaels
Connellsville
Rylee Donaldson, nursing
Gabrielle Goodwin, nursing
Ian Palaisa, corporate communication
Ashley Ringer, human development and family studies
Olivia Spotto, human development and family studies
Dravosburg
Nicole Walker, physical therapist assistant
Dunbar
Lucas Beddick, psychology
Reagan Dally, civil engineering
Lauren Nedrow, business
Samuel Leonard, electro-mechanical engineering technology
McKenzie Pittsment, nursing
Anna George, psychology
Fredericktown
Haylee Falcon, nursing
Jennifer Zelenick, nursing
Greensburg
Braxton Marshall, science
Highlands Ranch
Indian Head
Noah King, business, management and marketing
Masontown
Gianna Krofcheck, business
Jacob Nace, physical therapist assistant
Stephanie Sobek, nursing
Joseph Stoner, electrical engineering technology
McClellandtown
Mount Pleasant
New Alexandria
Brooke Parvin, human development and family studies
New Salem
Perryopolis
Chase Hazelbaker, nursing
Point Marion
Rostraver Township
Dillon Diamond, nursing
James Zakrzwski, accounting
Scottdale
Julia Bryner, criminal justice
Colby Cain, corporate communication
Uniontown
Heidi Anderson, nursing
Mary Byers, human development and family studies
Jacob Elias, electro-mechanical engineering technology
Brett Lemansky, engineering science
Tara Rankin, nursing
Christa Stroder, nursing
"As you prepare to tackle the challenges of today and tomorrow, remember that the journey never ends. Learning is a never ending process as there are always new ideas to imagine and new problems to be solved," said Pologruto, near the end of her speech. "The question I challenge you with is, what is next?"