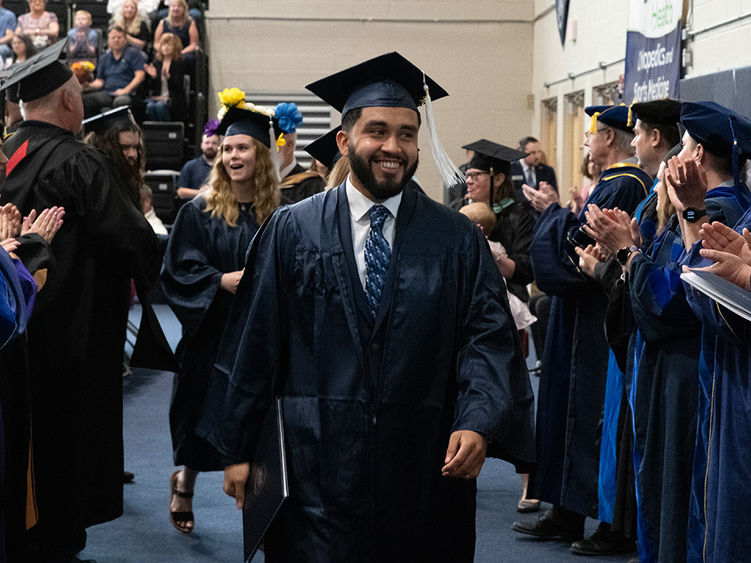 LEMONT FURNACE, Pa. — Penn State Fayette, The Eberly Campus, celebrated the accomplishments of its 53rd graduating class at the annual spring commencement on May 6. The ceremony honored the resilience and achievements of the students who completed their degrees during challenging times, with many earning special academic distinctions.
"Over the past few years, you not only completed your college degree but you did so during very challenging times of unexpected stress, and adversity. Your strength, resilience and dedication to your education during these times make us very proud of you — Penn State proud," said Charles Patrick, chancellor and chief academic officer, who proudly recognized the graduates during the ceremony.
The commencement address was delivered by Charles E. Hunnell, who encouraged graduates to use their education as a steppingstone to help others in their profession and community.
"You have each been given a bag of tools, a formless rock and a book of rules, and each must make, ere life is flown, a stumbling block, or a steppingstone. We chose to make steppingstones," he told the graduates. "Take the steppingstone you make and assist those in your profession and members of your community in realizing those same wonderful life experiences you were fortunate enough to accomplish."
Lauran Minerd, the student speaker, emphasized the significance of remaining humble and continually learning despite one's achievements.
"A Penn State degree represents over 150 years of culture and tradition," Minerd said. "What we achieve is important, but how we let these accomplishments transform us is even more crucial. Stay humble and always be open to learning."
The VFW band performed Penn State's Alma Mater by Fred Lewis Pattee after the ceremony, followed by Patrick officially conferring the degrees and leading the graduates in turning their tassels.
 
Spring 2023 Candidates for Graduation
Magna Cum Laude
Aubree Bowers
Lauran Minerd
Hayley White
Cum Laude
Joseph O'Connell
Joseph Stoner
Associate Degree in Business Administration
Brianna Hunt
Shane Leskinen *
Samantha McGhee
Associate Degree in Electrical Engineering Technology
Associate Degree in Physical Therapist Assistant
Brandy Donaldson **
Jacob Nace **+
Caleb Patton **
Brian Stinger, Veteran **
Cassidy Vansickle **
Nicole Walker **+
Kelsey Wilkins **
Bachelor of Science in Business
Dominic Boring
Justen Caughman
Jenna Filitsky
Kaylee Franks **+
Pablo Gudiel *
Charles Lowry III +
Kyle Ridley
Kaitlyn Scripp *+
Abrah Stewart *+
Jason Thoreson
Cade Warrick +
Bachelor of Arts in Corporate Communications
Madison Ashe
Carissa Cyphert
Robert McQueen *
Joshua Simon
Bachelor of Science in Criminal Justice
Savannah Baker *
Aubree Bowers +
Zyteira Collins
Meghan Goodnight
Kayla Graham **
Lauran Minerd +
Jorge Palmas Tenorio
Robert Setliff
Cassidy Uphold +
Zachary Visk
Hayley White +
Bachelor of Science in Electro-Mechanical Engineering Technology
Arlo Helms, Veteran
Casey Illian
Bryce Mudry
Braydon Nitkiewicz
Joseph O'Connell +
Erik Pietrantoni +
Dylan Sance *
Joshua Tabaj
Salanieta Waqanivalu
Bachelor of Science in Human Development and Family Studies
Karynn Davis
Marissa Shipp *+
Daniel Spring +
Ashley Stangroom +
Bachelor of Science in Nursing
Madelyn Albright +
Megan Barron
Madalyn Bartholomai
Rachel Beaumariage +
Nicole Bevard +
Abigail Bradley-Rash +
Cassidi Butler +
Brittany Drew +
Taylor Eagle +
Kayle Eutsey +
Sadie Foster +
Virginia Haines +
Megan Harkins
Brianna Kuhn +
Ashley Matheny
Taylor McCormick +
Hanna Miller +
Martha Patterson
Priscilla Petitte
Josue Phillips +
Brooke Poling +
Kalianna Rager +
Megan Roche +
Shaelyn Shipley
Lauren Showman *
Michael Standish +
Joshua Sterbutzel +
Tristin Szabo +
Haylee Williams +
Benjamin Witt +
Torren Yauger
Bachelor of Science in Project and Supply Chain Management
Dominic Boring
Mason Nickelson
Kaitlyn Scripp *+
Abrah Stewart *+
Bachelor of Science in Psychology
Christopher Chesebrough
Danielle Lewis
John Loughrie
Kerstin Nutt +
Madison Williams +
Penn State Fayette is known for its exceptional education and rigorous training, providing graduates with the skills and knowledge required to excel in their careers while offering affordable options. As evidence of the program's quality, many of these graduates have already secured job offers in their respective fields.
Armed with a solid foundation from Penn State Fayette's programs, these new professionals are set to make a substantial impact in their industries and enhance the lives of countless individuals in their communities.
For more information about programs offered at Penn State Fayette, visit fayette.psu.edu or call 724-430-4130 to schedule a campus visit today.
Distinctions:
+ Pi Sigma Phi honor society
* Fall 2022 graduate
** Summer 2023 graduate