Fayette students attend professional development experience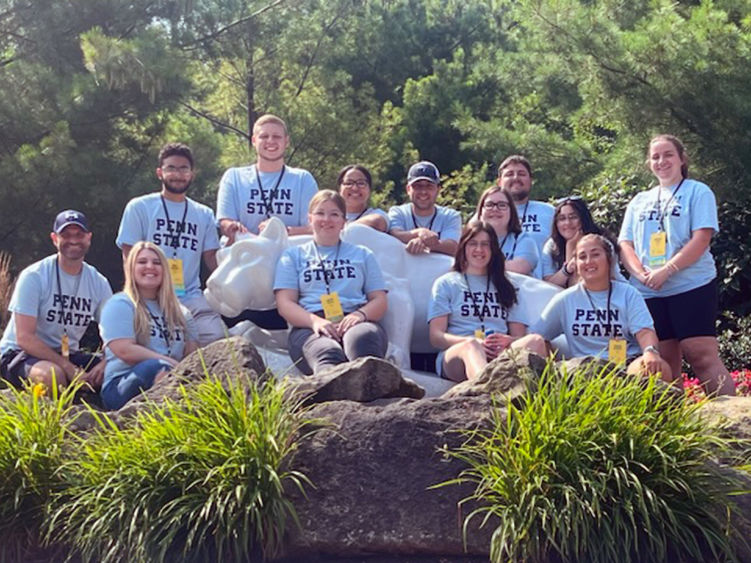 LEMONT FURNACE, Pa. — Students from Penn State Fayette, The Eberly Campus, joined their peers from across Pennsylvania at the University's annual Summer Leadership Conference (SLC), for a three-day professional development experience.
Held this year at Penn State Behrend, the conference featured keynote speakers and educational breakout sessions. Students served as both participants and facilitators, engaging with peers to explore essential leadership concepts.
Maria Catalina, fourth-year dual major in business and humanities from Scottdale, Pennsylvania, found the sessions particularly beneficial.
"One of my educational breakout sessions focused on creating a 'Teachable Point of View (TPOV),'" Catalina said. TPOV is a cohesive set of ideas and concepts that a person can articulate clearly to others. "It helped me understand what I value as a leader and how to work authentically with others. This will help me complete goals as a student leader within Penn State, and throughout my future career."
She was also challenged to present her own educational session on motivation.
"Presenting taught me how to effectively communicate a message and deliver talking points to start meaningful discussions," said Catalina, "Most importantly, I learned how to connect the comments of the audience to the message of the presentation, providing a teachable experience for others."
Building connections across the commonwealth
Networking is a critical part of academic and professional development, and the SLC facilitated engaging conversations between students from various backgrounds, fostering growth and critical thinking.
By providing networking opportunities, the conference reinforces the idea that successful leadership involves not just individual growth, but also the ability to connect and collaborate effectively with others. As attendees return to their campuses, they carry with them not only the lessons learned during the conference but also a network of peers and mentors who will continue to inspire and support their leadership journey.
Jacob Mariotti, fourth-year business major from Connellsville, Pennsylvania, will begin his fall semester as vice-president of Penn State Fayette's Student Government Association. Having attended this year's SLC, Mariotti said he feels confident in leveraging the insights and connections he gained to implement positive changes on campus and foster a more inclusive and engaging community.
"Getting to make connections with other presidents gave us an opportunity to make our respective campuses a better place for all the students we represent," Mariotti said. "I plan on being a leader that focuses on listening to the feedback from other students and help ensure that we create the best on-campus experience for every student that goes to Penn State Fayette."
Roger Myers, fourth-year, electro-mechanical engineering major from Fairchance, Pennsylvania, will begin his fall semester as president of Penn State Fayette's Student Government Association. Myers attended this year's SLC and hopes to bring fresh ideas back to campus and create an engaging atmosphere for students.
"My goal is to get as many people involved as possible," Myers said, mentioning the upcoming Student Activities Calendar, which is designed to include events focused on diversity, career development, culture, social interaction, and experiential learning. "You're here for four years. Why not make the best of it?"
The impact on students and their future endeavors
The SLC's mission is to empower students to make a positive impact on the world, and the conference provides lessons that reach far beyond the classroom.
Justin Byers, third-year marketing and management major from Uniontown, Pennsylvania, said the SLC was a transformative experience that has influenced his role in THON, a philanthropy dedicated to improving the lives of children and families affected by childhood cancer. As the Donor Relations Captain for Penn State Fayette's THON team, Byers focuses on building relationships and coordinating efforts to support this crucial cause.
"I just want to be a leader that helps others and gives advice based on what I've learned," Byers said. "Every student needs a leader, and I want to be that person for them. If I'm ever at a low point, I need to remind myself that I'm capable of moving forward. I've had issues with that in the past and didn't know what to do. Now, I have a solution to my problem whenever I need to use it."
Byers' feelings were echoed by other attendees, reflecting a common dedication to using the skills and insights gained to drive positive change in their academic work, student organizations, and future careers.
Connecting beyond academics
For Bethany Umbel, fourth-year nursing major from Friendsville, Maryland, and co-president of Penn State Fayette's chapter of Student Nursing Association of Pennsylvania, the SLC experience allowed her to connect with fellow students in ways that transcended the classroom.
"I got to bond on so many levels that had nothing to do with academics," Umbel said. "It was my first experience feeling like a stereotypical college student. I got a dorm for the first time; stayed up and got late-night food with friends. It was so different for a commuter student like me."
But the conference offered more than just social experiences for Umbel. She said one of her significant takeaways was learning how to lead through differences and conflicts.
"I learned so much about leading through conflict. We learned to make solutions happen even though we might have different outlooks and emotional connections to subjects. It's about letting those differences shine in a positive way, not as something that divides us," Umbel said.
I learned so much about leading through conflict. We learned to make solutions happen even though we might have different outlooks and emotional connections to subjects. It's about letting those differences shine in a positive way, not as something that divides us.

—Bethany Umbel , fourth-year nursing major