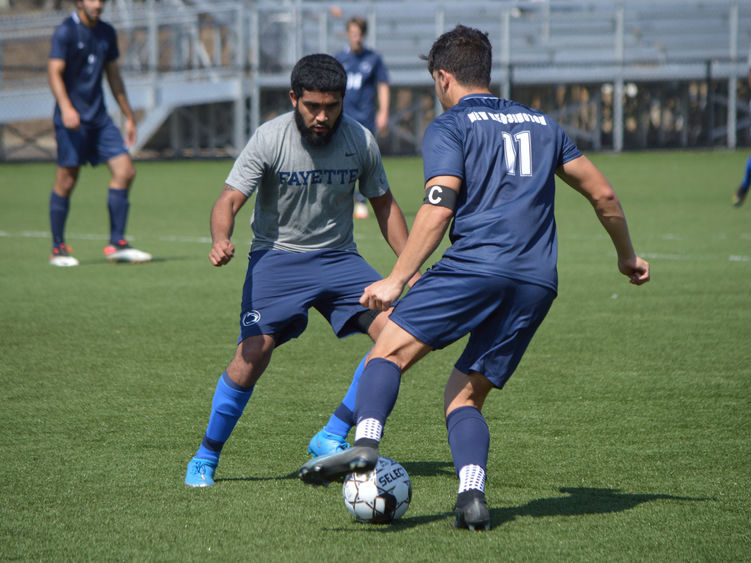 LEMONT FURNACE, Pa. — Penn State Fayette, The Eberly Campus, has announced the reintroduction of its men's soccer team, extending the campus' commitment to quality athletic programs for students within Fayette County.
The Fayette men's soccer program was discontinued following the 2021 season. Seeking to rebuild its roster, the program is actively recruiting to compete as an independent beginning in fall 2024, and the team will rejoin the Penn State University Athletic Conference (PSUAC) by 2025.
The reintroduction of the men's soccer team comes as part of a concerted effort to provide more opportunities for student-athletes to compete and earn recognition on an intercollegiate level. Its addition aligns with the campus' history of academic and athletic achievements, which includes 16 PSUAC championships across all sports. Student-athletes make up nearly 25% of the Fayette campus' student body, with a consistent grade-point average of 3.2.
The PSUAC enhances the athletic experience for student-athletes by offering structured competition, postseason awards, and the potential for All-Conference and All-Academic honors. For prospective student-athletes at Penn State Fayette, the PSUAC offers a chance for showcasing talents on a conference-wide stage and opens doors for further athletic and academic opportunities.
Penn State Fayette's student-athletes can compete in a range of leagues, from the United States Collegiate Athletic Association's smaller college focus to the NCAA's larger divisions. Each organization offers different levels of competition and opportunities, giving our athletes varied platforms to shine and grow.
"Our student-athletes are given every opportunity to develop as young leaders on campus, in their communities, and within the sport they love most," said Stephen Oberly III, director of athletics at Penn State Fayette. "We look forward to seeing the soccer team on the field."
"As a coach, my ultimate goal for the soccer program is to not only win championships, but to create a world-class team of young players that are exceptional leaders, highly motivated, and embody commendable values such as self-confidence and self-discipline," said Mike Wystepek, head men's soccer coach at the Fayette campus.
"Soccer is more than just a game. It's an opportunity to instill core values in the minds of my players to work as a team, communicate effectively, and overcome challenges," said Wystepek. "Through soccer, they can learn invaluable life skills that will shape them into responsible and successful adults. I am confident that we can build an elite soccer program that will be a source of pride for our University and the community at large."
Recruitment for the men's soccer team has begun. Prospective student-athletes interested in joining the team should visit the Penn State Fayette athletics website or contact Wystepek at [email protected] or 724-430-4282.