Penn State Fayette's annual event designed to introduce female students to nontraditional careers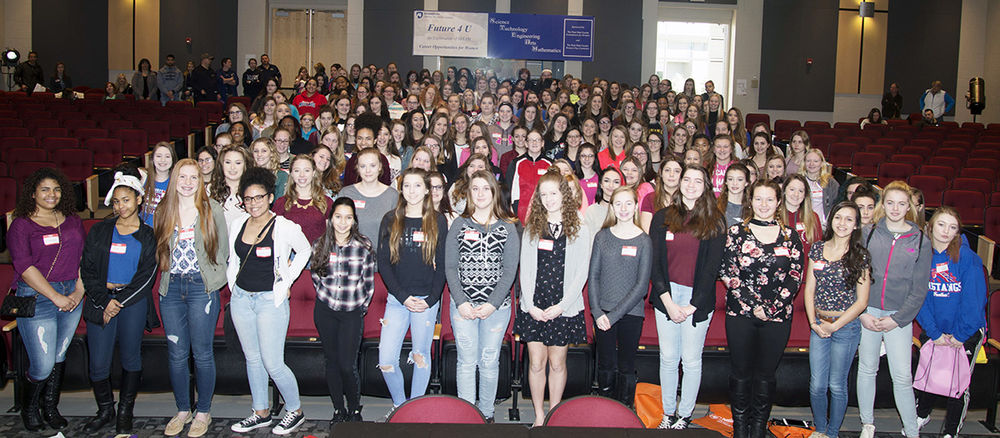 LEMONT FURNACE, Pa. — In a serendipitous, but unplanned, coincidence, Future4U: An Exploration of STEAM Career Opportunities for Women took place at Penn State Fayette, The Eberly Campus March 8, which also just happened to be the International Day of Women.
Sponsored by the Penn State Fayette Commission for Women, this annual event, now in its fourth year, brought together approximately 200 ninth-grade students from Albert Gallatin, Connellsville, Laurel Highlands, and Uniontown school districts, in an effort to get them thinking at an early age about careers in the fields of science, technology, engineering, arts, and mathematics (STEAM).
According to commission member Billie Jo Yuhaniak, such exposure is especially important because it allows the students to begin taking the necessary high school coursework to prepare for careers in these fields.
Yuhaniak noted students attended 30-minute interactive workshops in each academic discipline led by Penn State Fayette faculty members, including the following:
Stacy Sekeley discussed the physical therapy field, including the roles of providers, workplace settings, diagnoses treated, and common interventions. Participants had the opportunity to try some physical therapy techniques, including strength testing, wheelchair mobility training, and balance exercises.
Melissa Miner, Janet Ritenour, Amy Shearer, and Damien Zsiros co-presented on nursing as a career. They introduced students to the primary roles, responsibilities, and requirements of a registered nurse and engaged them in activities that demonstrated the function of the vestibular balance system, testing of reflexes, and identification of vibration. Students also participated in a discussion and hands-on activity to increase awareness of healthy lifestyle choices.
Lynn Petko, the adviser to the Lion Players, Penn State Fayette's student acting group, conducted a session on the arts. She showed students the set, discussed the upcoming production of "Hamlet," and engaged them in interactive role-playing activities to use creative critical-thinking skills on the stage.
MaryAnn Walters led students to discover the relevance of statistics in society as they conducted a brief survey of other workshop participants. They collected data, crunched the numbers, and drew conclusions based on overall percentages, showing students the impact of mathematics in the real world.
Kevin Maxwell and Nicole Hill helped attendees investigate connections between mathematics and art using tetrahedra, kites, and the Sierpinski Pyramid.
Julio Palma conducted chromatography experiments with students in order to explore the pigments of different materials people see on a daily basis and relate that to how scientists can study the different composition of unknown substances.
Dave Meredith and Nate Bohna exposed students to a 3D printer and its manufacturing capabilities. Also, a Penn State Fayette engineering graduate, Brittany Mihalko, spoke about how she became interested in that field as a high school student and her experiences in college and the workforce.
Katrina Porter's biology workshop focused on cardiovascular anatomy and physiology, including a sheep heart dissection, heart rate measurements, and blood cell imaging.
Porter said she had nothing like Future4U when she was a student at a small rural high school in West Virginia, and because of that lack of exposure, changed majors four times in college. She said this type of program is beneficial to female students because "it is much better to get them thinking early when they still have time to take advantages of opportunities. So, they're getting exposure, whereas so many of us missed it earlier on."
One attendee, Uniontown High School student Alayna Kopacka, said Future4U made her reconsider her career choice. Math is her favorite subject, and her parents have strongly encouraged her to become an engineer, so she thought her path was set. Although Kopacka arrived with a preconceived notion that she would not be interested in nursing, she said the presentation today now has her considering a career caring for others.
What did Kopacka like most about the program? "I think it is really empowering for women to get into more fields and express themselves," she said.