International Food Showcase selected for April 12 spotlight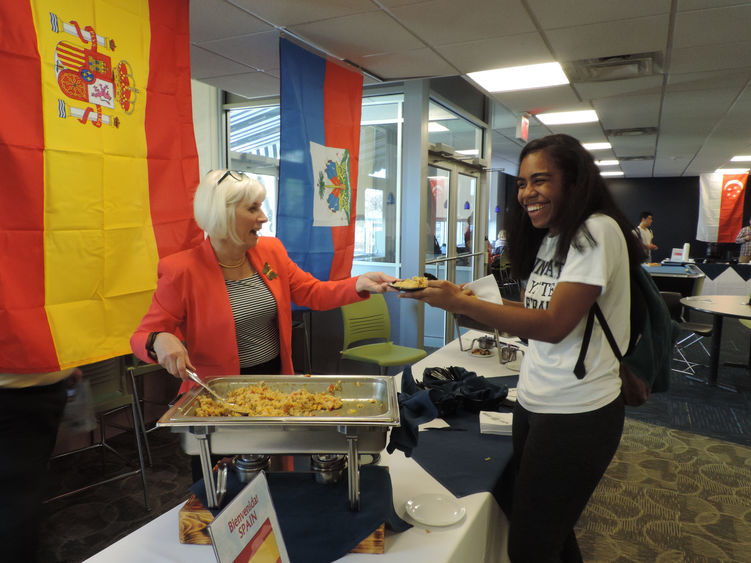 LEMONT FURNACE, Pa.—Snapchat featured the International Food Showcase at Penn State Fayette, The Eberly Campus, as a Campus Story for April 12, highlighting photos and videos from this student event for millions of the social network's users. Campus stories are a component of the mobile app's Live Stories section, which is coveted by marketers for its ability to grab the attention of 10 to 20 million Snapchatters over a 24-hour timeframe.
Chad Long, manager of student affairs at Penn State Fayette, said Snapchat became aware of the International Food Showcase through a listing he created for the event on Penn State's All In Diversity and Inclusion Calendar. He said a Campus Story curator emailed him to request that he submit photos and videos, so he sent 10 snaps.
Long is thrilled that a Fayette campus event made it onto Snapchat's public feed. "I think it goes to show the importance of what we're doing at the campus to promote diversity and inclusion and to give students that experience of exploring different cultures and traditions."
Long believes Penn State Fayette is at the forefront of student engagement, and this was evident to the Snapchat curators through the photos and videos he submitted. "I look at other universities or campuses that are residential and are bigger than us, and our level of engagement is either at the same level or even surpassing some of those other campuses or colleges because our students are excited about being here."
Long added, "They're excited about being engaged. They want to get outside and learn and do more outside the classroom."
According to Long, this was the second year that Penn State Fayette held the International Food Showcase, which featured foods from seven nations. He said 187 students participated, and that it was a large turnout.
This was not just an event where undergrads got to eat; they also had the opportunity to learn. When entering the Student Center, which was filled with the colorful flags of the featured nations, participants received a "passport" that had pages for each country listing facts about its population and culture, as well as the location on a world map. As students made their way around the room, their passports got stamped, and when all seven stamps were collected, they submitted them for a chance to win a $25 gift card from the campus bookstore.
Farmington's Historic Stonehouse Restaurant & Inn catered the event, which featured these nations and their foods: Brazil, chimichuri beef skewers; Haiti, diri ak pois (rice and beans); India, aloo gobi (cauliflower and potato dish); Jamaica, jerk chicken and red rice; Morocco, Moroccan orange cake with citrus fruit salad; Singapore, spicy chicken laska soup; and Spain, mussel and sausage paella.
Senior Justin Tatar, Penn State Fayette's Student Affairs intern for cultural affairs and diversity, was very involved with this event, which he said was one of his favorites. The human development and family studies major sampled everything, but especially enjoyed the jerk chicken and red rice, saying, "I love learning about new cultures and having a new opportunity to taste something unique."
Tatar's supervisor Long said the International Food Showcase was a good example of what Penn State Fayette does to promote diversity and inclusion and to give students the chance to explore different cultures and traditions. "When it reaches a national spotlight, such as Snapchat," he said, "it shows there is definitely interest there—and that what we're doing is really important."