Students participate in poster competition at Penn State Fayette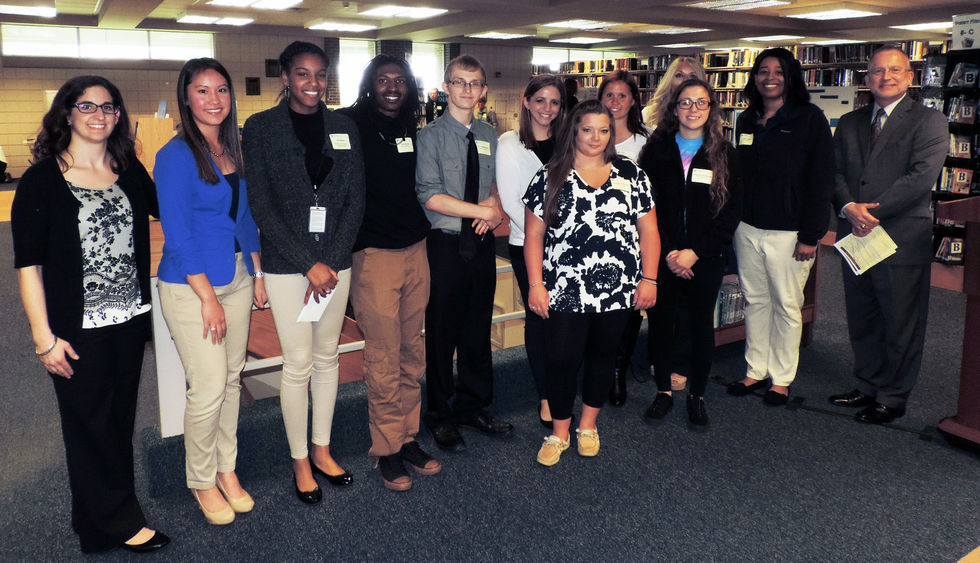 LEMONT FURNACE, Pa. — Although the library at Penn State Fayette, The Eberly Campus is normally quiet, it was buzzing with activity April 25, when students, faculty, staff, and members of the community assembled there for the spring Undergraduate Learning Fair. This twice-yearly poster competition provides an opportunity for student-researchers to display the results of their academic curiosity, as well as their creative and presentation skills.
According to Learning Fair coordinator Mary Inks-Budinsky, the two-faceted poster competition has one component for research projects submitted by individuals and groups and another that has entries from entire classes. She said there were 26 entries in the former category and 18 in the latter, with a total of 92 students participating.
A group of volunteers from the community served as judges, including: Wayne Port, an attorney and member of the Fayette campus Advisory Board; Paula Johnston, a Penn State alumna and family resource specialist at Head Start of Fayette County; Susan Morris-Rutledge, assistant professor and coordinator of the English as a Second Language Program at the California University of Pennsylvania; and Fayette County Career and Technical Institute special education facilitators Justin Grimm and Jared Rebick.
As they evaluated the exhibits, judges assigned a score from one to five for each of six criteria:
· Clear presentation of information
· Organized and logical flow to poster design
· Visual appeal
· Appropriate use of tables, graphics, and/or images
· Evidence of key point
· Student responses during face-to-face discussion of research
For the undergraduate research project category, the judges chose:
· First Place: Christopher Lloyd, "Metallic Hydrogen," CHEM 112, Julio Palma. Metallic hydrogen is a new and interesting discovery in the field of chemistry that could lead to advancements in several different fields of study. Lloyd researched the potential uses of the substance in multiple aspects of life and explored the difference it will make to not only chemistry, but also to other scientific fields. Although the future is unknown, the implications of it are numerous, from use in brain-imaging machines to fueling rocket ships for long voyages. Basing his research on others' experiments provided Lloyd with a unique outlook on the overall experiment and allowed him to understand how to possibly mass produce the substance or to create it in circumstances that are simpler. It also allowed him to question the methods used in the experiment and provide insight on how it could be improved for the future.
· Second Place: Jaira Wells, "Molecular Electronic Research: Computational Studies of a Molecular Switch," CHEM 294, Julio Palma. The subject of Wells' study was the dithienylethene molecule, which has been proposed as a potential molecular electronic switch. This molecule has two stable conformations; one transports charge more efficiently than the other. Her project involved a theoretical investigation on the electronic structure of this molecule's energy levels and a conformational analysis.
· Third Place: Gabriella Munson, "Alzheimer's Disease: How Family Can Help Ease the Effects," STS 101, Gib Prettyman. Over a period of six weeks, Munson studied how cooking affected the mood and disease progression of her grandmother, who has Alzheimer's disease. Using a variety of recipes that the 79-year-old had often cooked, together the two prepared a different dish each week. Munson's study had two findings. First, it helped her grandmother to recall long-term memories from when they had cooked the same recipe together years before, as well as short-term memories from the previous week when they had cooked a different dish. Munson said her study caused the elderly woman to have higher spirits and a clearer mind.
In addition to the judged awards, students, staff, faculty and other attendees of the Learning Fair got to choose an additional award. The Class Project Category (Audience Choice) went to "Penn State Business," submitted by Bill Gardner's MGMT 433 class, whose members include Tony Bristol, Caitlyn Brown, Chelsea Guziak, Holly Humbertson, Holly Marcinko, Angeleena Raimondo, Danielle Sheraskey and Taylor Smith. MGMT 433 is a class on Leadership and Teams. For the Learning Fair, the class developed a variety of marketing materials for the Business program at Penn State Fayette, including a Facebook page; a database of Master of Business Administration programs; a flyer for prospective student athletes; and a recruiting poster.
The faculty adviser for the top two individual winners in the competition, Palma, said the Learning Fair events celebrate the end of the semester and acknowledge the hard work and dedication that students put in their classes and projects. Their primary benefit, he said, "is that our students get motivated and encouraged to continue pursuing research projects that will enrich their studies, college life and professional experience."