Savannah Nassar was honored to represent Penn State in Harrisburg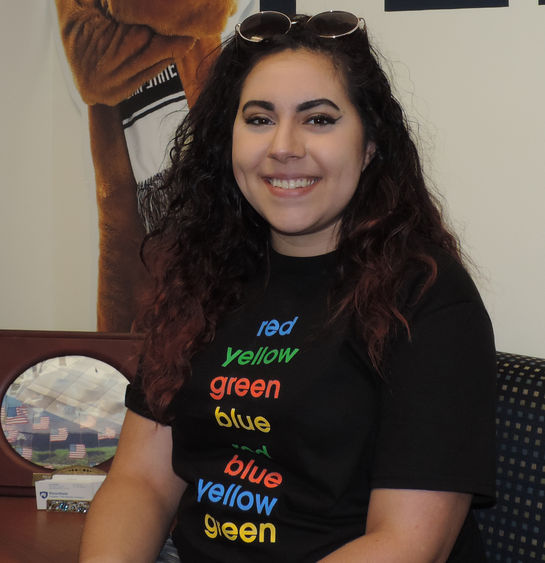 LEMONT FURNACE, Pa. — Savannah Nassar, a psychology major at Penn State Fayette, The Eberly Campus, was among the University's students who presented their research to legislators at the 15th annual Undergraduate Research at the Capitol–Pennsylvania (URC-PA) conference, which took place at the Capitol Complex in Harrisburg April 25.
The Penn State participants joined with other undergraduate students from across the Commonwealth to network with peers and engage with members of the Pennsylvania Senate, House of Representatives, and their staffs.
The keynote lecture speaker was Jim Tartaglia, global vice president of New Vaccine Projects at Sanofi Pasteur. Tartaglia is an inventor on more than 20 patents relating to recombinant vaccines, and was a key figure in the HIV Thai trial, RV144, which led to the first demonstration that a vaccine regimen can reduce the risk of acquiring HIV.
New this year, students had the option of being reviewed by a panel of judges to compete for awards. They were judged on how well their poster and oral presentation conveyed the project's significance to research and policy-making, as well as its potential impact on society.
Nassar's research topic was "Mental Illness Stigmatization: Celebrities vs. Non-Celebrities." The Uniontown resident, who graduated in May, said this subject is very personal. "I chose this topic about stigma because I have had my own experience with mental illness, and previous studies indicate that the unfortunate presence of stigma is still at large."
Nassar's research adviser, Nicole Iannone, suggested looking at the differences between the way celebrities are stigmatized and non-celebrities are stigmatized, and another faculty member, Elaine Barry, suggested that she apply to participate in URC-PA conference.
Although her poster was not one of the winning entries, Nassar enjoyed competing at the conference. "It's always great to meet people who are so passionate about their fields and like-minded individuals who are so dedicated," she said, adding, "The conference was a great experience overall. It was an honor that I was able to represent the great research we do at Penn State."
In the fall, Nassar will be attending Penn State Behrend, where she has enrolled in the master's program in applied clinical psychology. Once there, she plans to begin researching mindfulness.
But Nassar will always remember her time at the Fayette campus, where she most appreciated the faculty members and smaller class sizes and, not surprisingly, the opportunities to conduct research.