Brandywine, Fayette, Mont Alto and Worthington Scranton campuses to establish innovation hubs to spur entrepreurship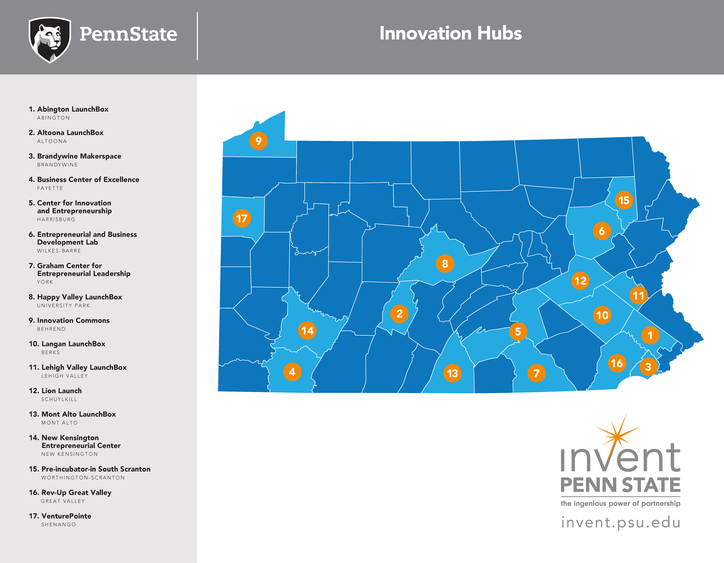 UNIVERSITY PARK, Pa. — The Invent Penn State initiative announced the awarding of four $50,000 seed grants to develop additional innovation hubs to jump-start entrepreneurial activities in campus communities across the Commonwealth. Awarded by a competitive selection process, the four grants will go to the Brandywine, Fayette, Mont Alto and Worthington Scranton campuses.
With today's announcement, Invent Penn State has provided seed grant funding for a total of 17 innovation hubs, all built upon partnerships with local community organizations and local industry to meet the needs of their unique business startup ecosystem. The winning grant proposals include varying combinations of training, mentorship and co-working space to accelerate business startups, improve entrepreneurial leadership and spur economic development.
The programs and services of each center or program are available free of charge to Penn State students and faculty, as well as community members who are not directly affiliated with Penn State.
Since their openings, the hubs have accelerated more than 50 startups, supported more than 1,000 entrepreneurs, and hosted nearly 100 events and pitch competitions.
"With this latest round of seed grants, Penn State extends its commitment to helping to spur innovation in communities throughout the Commonwealth," said Penn State President Eric Barron. "We've seen a great deal of success in the regions we've partnered with, and our hope is to build on that and spread a culture of innovation and entrepreneurship across the state."
The four new Commonwealth Campus seed grant awardees are:
"The campuses have a shared commitment to the well-being of the communities where they are situated," said Madlyn Hanes, vice president for Commonwealth Campuses and executive chancellor. "The Invent Penn State seed grants leverage the strong ties between our campuses and their community partners and demonstrate the good that can come from faculty, students and community members working together to advance innovation."
Invent Penn State innovation hub grant award winners since the launch of the program in 2015 include: Abington, Altoona, Berks, Erie, Great Valley, Harrisburg, Lehigh Valley, New Kensington, Schuylkill, Shenango, Wilkes-Barre and York. The Invent Penn State initiative also opened Happy Valley LaunchBox in State College in early 2016.
In addition to the 17 Innovation Hub awards, planning grants have been awarded to the Beaver, Hazleton, DuBois, and Greater Allegheny campuses to facilitate the establishment of future hubs in their campus communities.
"We are very excited to add to the momentum with this latest round of seed funding to these four campuses," said Vice President of Research Neil Sharkey. "When you see Penn State faculty, staff, students and our community partners leverage their talent and expertise, it's truly inspiring to see what they develop."
The Invent Penn State initiative, announced by President Barron in January 2015, is designed to leverage the University's size and broad research strength to drive job creation, economic development and student career success. Penn State committed $30 million toward the effort, investing in academic programs, additional faculty and incentives, resources for startups and investors, partnerships with business and government, and creation of physical spaces to support entrepreneurs.