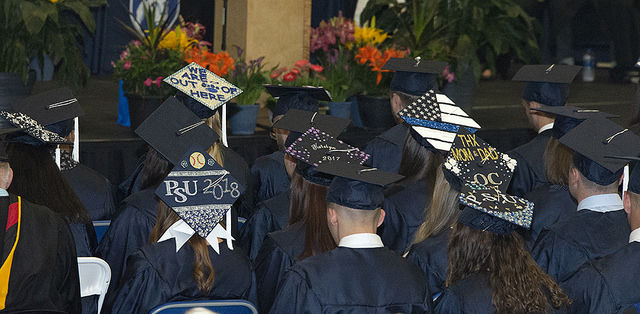 LEMONT FURNACE, Pa. — Charles Patrick, chancellor and chief academic officer of Penn State Fayette, The Eberly Campus, conferred academic degrees on 124 candidates for graduation during the 48th commencement ceremony on May 6 in the campus Community Center.
The event's honored speaker was Penn State alumnus Mark Kempic, chief transformation officer for NiSource, a leading natural gas and electric utility company. Kempic has over 35 years of experience in the energy industry. He previously served as president of Columbia Gas of Pennsylvania and Columbia Gas of Maryland. He holds an associate's degree in solar heating and cooling engineering from Penn State, a bachelor's degree in computer and information science from the University of Pittsburgh, and a law degree from Capital University School of Law.
"Every story you've ever connected with, every professor you've ever admired, every small thing that you've ever accomplished can be the catalyst for a future action," said Kempic in his address. "I want you to think about those small things that may have happened to you during your years at Penn State Fayette. I want you to hold on to them, because they will serve you well in the future."
Kempic worked the night shift at Columbia Gas through a cooperative program to pay for his education. He credited his time as a Fayette student for his practical expertise, his humility, and his love of "continuous learning."
"The world changes and shifts beneath our feet. The rules aren't the same from one day to another, one presidential administration to the next," he said. "In the midst of all these changes, what do you have? Your education, and the small things you've picked up here and elsewhere along your life's journey."
The Laurel Highlands Senior High Air Force Junior ROTC gave the presentation of the colors, and the National Anthem was performed by the V. F. W. Post 8543 Band. Sharon Harrold, assistant teaching professor of biology, served as commencement marshal. She will retire this semester after 11 years at Penn State Fayette.
Kirstan Webb, recipient of a baccalaureate degree in administration of justice, gave the student response. Webb graduated summa cum laude at the top 2 percent of her class.
"Whether it's the caring and genuine professors and staff or the close-knit classes, there is something undeniable here at Penn State Fayette that creates a bond like no other," said Webb. "We came to this campus as strangers, but we became family."
A full gallery of photos from 2018 Commencement are available to view and download.
The following candidates for graduation, arranged by degree, participated in Penn State Fayette's commencement ceremony:
Associate in Business Administration
Jayme E. Frey
Tyler P. Henry
Bachelor of Science in Business Administration
Caitlyn M. Brown
Katelyn N. Byers
Olivia V. Crutchman
Jacob A. Harris
Richard D. Holan Jr.
Tanner A. Huffman
Abby M. Keefer
Ethan S. Kenney
Megan K. Means
Nathaniel C. Muellerleile
Derek A. Murray
Spencer M. Perieff
Angeleena T. Raimonda
Paul V. Rathway
Brittney N. Ross
Brogan A. Rowe
Danielle L. Sheraskey
Taylor R. Smith
Kody J. Thomas
Associate in Electrical Engineering Technology
Paul W. Fyock
Jarrod M. Sutton
Cody L. Weimer
Logan D. Wrona
Raymond D. Ziringer
Associate in Human Development and Family Studies
Bachelor of Science in Human Development and Family Studies
Nicole R. Barber
Rebekah L. Bricker
Erika L. Butter
Zariah I. Chitan
Bethany I. Coldren
Katelyn J. Collier
Kira N. Doaks
Marissa D. Engle
Brooke F. Gales
Suzzanna J. Goodwin
Jacqueline M. Halapy
Marqus A. Lewis
Valerie R. Mikesic
Rachael K. Mitchell
Haley J.M. Moreland
Joseph M. Onesi
Lauren H. Porterfield
Raelynn A. Rice
LaKeisha D. Spells
Malory A. White
Tamra L. Yates
Associate in Information Sciences and Technology
Associate in Letters, Arts, and Sciences
Associate in Mining Technology
Associate in Physical Therapist Assistant
Lauren B. Adams
Rachel A. Byers
Kaylie N. Eutsey
Taylor R. Ferris
Marquel L. Formato
Monica R. Joseph
Emily M. Keslar
Chelsey M. Lewis
Melissa Nolan
Tyler E. Ruda
Ashley M. Shipp
Brittany R. Tanner
Bachelor of Arts in Administration of Justice
Andrea M. Cobb
Joshua Kwasney
Michael Perdomo
Alaura D. Rasel
Pedro A. Tavarez
Robert M. Wallace (Veteran)
Bachelor of Science in Administration of Justice
James T. Amoroso
Cheyenne M. Berens
John R. Blocker
Angel D. Fulton
Tess N. Gibbs
Suzzanna J. Goodwin
Gerald W. Myers
Kelsey M. Rudzienski
Holly A. Scarpa
Felicia J. Thompson
Matthew D. Vanderhoff
Kirstan A. Webb
Bachelor of Arts in Corporate Communication
Jenna E. Fleming
Brianna R. Harr
Paige A. Malenock
Bachelor of Science in Nursing
Cassandra E. Ackerman
Matthew A. Bradley
Danielle L. Brnilovich
Sabrina C. Chao
Nicole A. Clark
Shaina V. Comiskey
Tara L. Cope
Ashley R. Davies
Kevin W. Dudeck
Lynne R. Farkas
Emily C. Fordyce
Anna E. Goodwin
Cordessa E. Griglack
Micah A. High
Jonathan E. Keffer
Andrew P. Lapinski
Mia A. Lawrence
Jennifer L. Maraugha
Danielle R. McBurnie
Shane E. Miner
Bethany N. Mitchell
Lisa M. Mitchell-Cole
Sierra J. Schroyer
Amanda L. Sutton
Allison P. Thomas
Julie M. Thorpe
Cassey M. Tyrpin
Brandi L. Umbaugh
Stephanie L. Venersky
Misty D. Whoolery-Pratt
Caitlyn A. Williams
Kara E. Zimscosky
Bachelor of Arts in Psychology
Bachelor of Science in Psychology
Ryan A. Baker
Haley M. Brothers
Cara A. Jackson
Sammantha J. Snyder
Jordan S. Stash
Brittanie N. Watson
Joseph L. Yourchik